Sydney Opera House Awarded Top Environmentally-Friendly Rating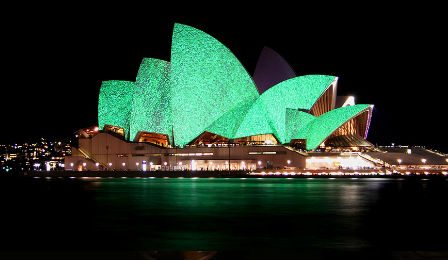 Australia's most iconic building, the Sydney Opera House has today been awarded a 4 Green Star, top environmental performance rating by the Green Building Council of Australia – for its eco-friendly operations and innovations.
The world famous venue on Sydney's harbour, joins only a handful of world heritage buildings in the world to have been recognised with a green certification for ecological efficiency.
Among the Opera House's green innovations include a seawater cooling system and an energy saving lighting control system – both of which have reduced the electricity consumption of the venue by as much as 75%.
"The Opera House is an icon of Sydney and a symbol of modern Australia so it's vital that it sets the standard," Opera House Building Director, Greg McTaggart has said, "... the endorsement by the GBCA sends a clear message that green buildings don't have to be new .... even the most recognisable and historic landmarks can earn a place among the most celebrated sustainable buildings in the world."
The performing arts venue hosts over 1500 performances each year– with its four key resident companies: Opera Australia, The Australia Ballet, the Sydney Theatre Company and the Sydney Symphony Orchestra.