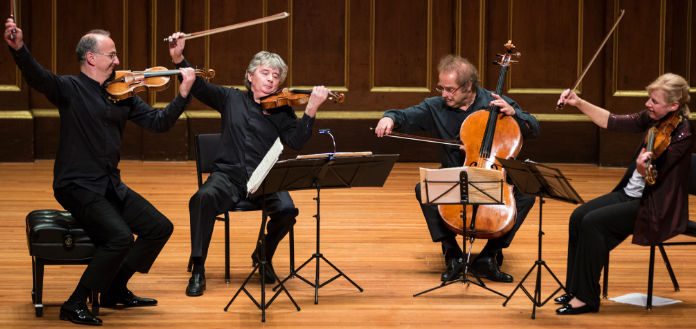 The Takács Quartet has today announced long-time 2nd violinist and founding member Károly Schranz is set to retire from the ensemble on the 30th of April this year - after 43 years performing with the quartet.
The University of Colorado Boulder-based quartet was originally formed in 1975 at the Franz Liszt Academy of Music, in Budapest, Hungary.
"Károly brought extraordinary abilities to the group … we were all inspired by his lively, characterful playing and imaginative approach to music," the ensemble has said.
"Individually, I have learned a huge amount from Károly and will always be profoundly grateful for the support he gave me after I joined the quartet," current 1st violinist Edward Dusinberre has said.
Károly, 65, who plans to continue an active career as a chamber musician and teacher, will be succeeded in the quartet by violinist Harumi Rhodes, the ensemble has indicated.
A graduate of The Juilliard School and the New England Conservatory, where she studied with Shirley Givens, Earl Carlyss, Ronald Copes and Donald Weilerstein, Harumi currently also serves on faculty at the University of Colorado Boulder.
"We are thrilled that Harumi has accepted our invitation to join the quartet … she is a wonderfully versatile violinist and chamber musician … and we greatly look forward to working with her," the ensemble has said.
PHOTO CREDIT: ROBERT TORRES