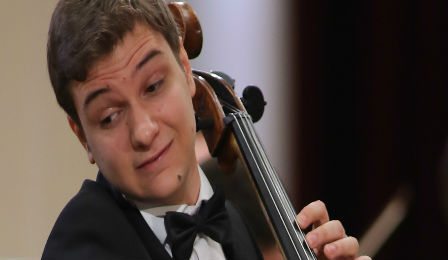 21 year old Romanian cellist Andrei Ioniță, has just minutes ago been awarded 1st prize at the 2015 Tchaikovsky International Cello Competition, in Moscow.
A student of Professor Jens Peter Maintz, Andrei is a former 1st prize winner at the Popper and Khachaturian International Cello Competitions.
2nd prize was awarded to Alexander Ramm from Russia – and 3rd prize to Alexander Buzlov from Russia.
4th, 5th and 6th prizes were awarded to Pablo Ferrandez-Castro from Spain, Seung Min Kang from South Korea and  - and Jonathan Roozeman from the Netherlands.
Andrei will receive US $30,000.
The 2015 cello jury comprised: Wolfgang Boettcher, Mario Brunello, David Geringas, Clive Gillinson,­ Alexander Kniazev, Mischa Maisky, Ivan Monighetti, Sergei Roldugin, Martti Rousi, Lynn Harrell, Jan Vogler, Jian Wang and Myung-Wha Chung.
2nd prize in the violin division was awarded to VC 'Young Artist' Yu-Chien Benny Tseng from Taiwan.
1st prize in the piano division was awarded to Dmitry Masleev from Russia.
1st prize in the voice category was awarded to Yulia Matochikina from Russia.
No 1st prize was awarded in this year's violin category.
This year's US $100,000 Grand Prize winner will be announced at tomorrow's Gala ceremony.