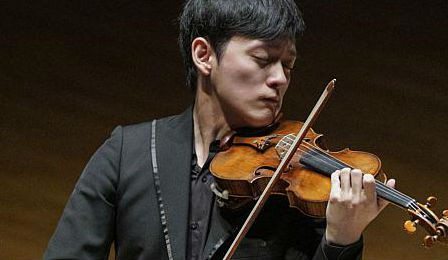 20 year old VC 'Young Artist' Yu-Chien Benny Tseng, from Taiwan has just minutes ago been awarded 2nd prize, this year's highest accolade, at the 2015 Tchaikovsky International Violin Competition, in Moscow, Russia.
No 1st prize was awarded in this year's violin category.
A student of Aaron Rosand and Ida Kavafian, at the Curtis Institute of Music, Benny is a former 1st prize winner at the Sarasate, Isang Yun and Singapore International Violin Competitions - and was awarded 5th prize at the coveted 2012 Queen Elisabeth International Violin Competition, aged just 17.
Joint 3rd prizes were awarded to VC 'Young Artist' Alexandra Conunova from Moldova, Pavel Milyukov from Russia and Haik Kazazyan from Russia.
4th and 5th prizes were awarded to VC 'Young Artist' Clara Jumi Kang from Germany and Bomsori Kim from South Korea.
Benny will receive US $20,000.
The 2015 violin jury comprised: Salvatore Accardo, Yuri Bashmet, Maxim Vengerov, Liana Isakadze, Leonidas Kavakos, Ilya Kaler, Boris Kushnir, Mihaela Martin, Vadim Repin, Roman Simovic, Viktor Tretyakov, Maxim Fedotov, Vera Tsu Wei Ling, James Ehnes, Michael Haefliger and Nikolaj Znaider.
The 'Best performance of the Concerto in the 2nd round with Chamber Orchestra' prize was awarded to VC 'Young Artist' Clara Jumi Kang.
1st prize in the cello division was awarded to Andrei Ionut Inoita from Romania.
1st prize in the piano division was awarded to Dmitry Masleev from Russia.
1st prize in the voice category was awarded to Yulia Matochikina from Russia.
This year's US $100,000 Grand Prize winner will be announced at tomorrow's Gala ceremony.