The League of American Orchestras' New 2023 Report, "Diversity in the Orchestra Field"
The organization's report on "Racial/Ethnic and Gender Diversity in the Orchestra Field" details representation in American orchestras over the last decade
Founded in 1942 to support America's orchestras, the League of American Orchestras (LAO) involves a diverse membership of over 1,800 across North America, and hosts various events to advance orchestral music experiences and support its creators.
Commissioned by the League, the 2023 Racial/Ethnic and Gender Diversity in the Orchestra Field report is a new comprehensive study of representation at orchestras throughout the U.S. 
Building on the LAO's 2016 demographic study of the same title, this report covers a ten-year period from the 2013/14 season through the 2022/23 season, presenting analyses by orchestra role and demographic group.
The report focuses on where diversity has improved and where it has not — describing the current state of racial/ethnic and gender diversity among orchestra musicians, conductors (including assistant conductors), music directors, staff members, top executives, and board members. 
The featured data forms the basis for helping orchestras accelerate progress, receive support for equity, diversity, and inclusion (EDI) work, and measures demographic change in the future. This report joins other studies by the LAO, including the 2022 Orchestra Repertoire Report. 
According to the study, representation improved among Asian or Asian American and women conductors, Black or African American staff and board members, Hispanic/Latinx and Multiracial top executives, and women top executives in larger budget orchestras. 
The proportion of Asian or Asian American musicians remains highest in larger budget orchestras ($3 million or more annually), while Black or African American, Hispanic/Latinx, and Multiracial musicians' representation remains highest in smaller-to-medium budget orchestras. 
However, as the research places this relative progress into context, it is revealed that "certain historically and continuously marginalized groups remain much less well represented in the orchestra field than in the overall U.S. population."
Black or African American, Hispanic/Latinx, and American Indian and Alaska Native people remain significantly lower in every orchestra role than in the U.S. population, as does the proportion of women and nonbinary people working in a conductor and music director role.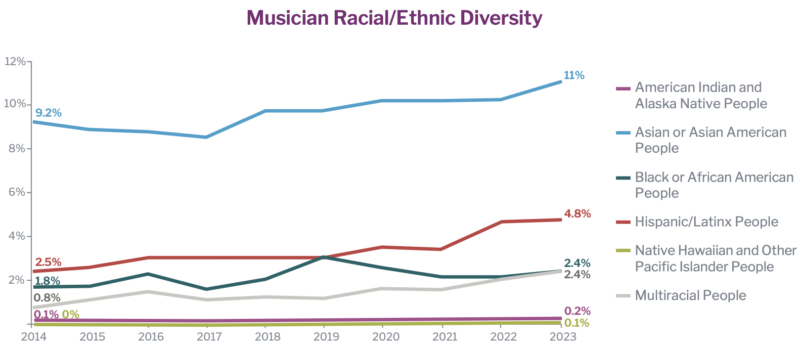 In the 2022-23 season, BIPOC accounted for almost one-third (31.7%) of conductors, including assistant conductors and music directors, compared to any other orchestra role — nearly doubling overall — and accelerated during the years of the pandemic. Now, around one in four music directors are BIPOC.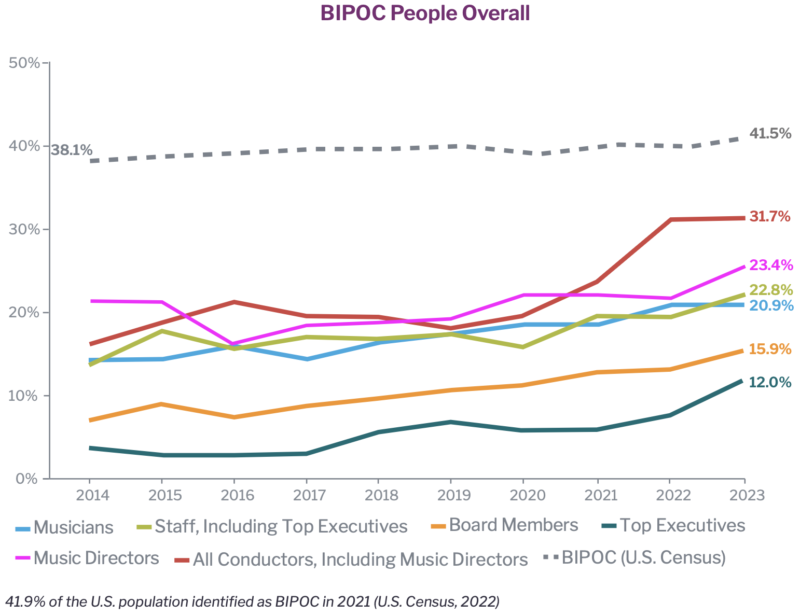 Gender diversity for conductors and music directors has the biggest disparity, with women significantly lower in number than their male counterparts. However, for staff, top executives, board members, and musicians, gender diversity is improving. Non-binary people have less than 1% representation in all roles. 
One in nine music directors are women and for those with larger budget orchestras, the figure has fallen from one in nine to one in 18. The number of women, nonbinary, and Black or African American people is higher among staff than in any other role. 
Across the last decade, women musicians consistently represented around 47% of the overall musician population — compared to 50.5% of the U.S. population — and were roughly 20% more likely to be working in smaller-to-medium budget orchestras than in larger budget orchestras.
Asian or Asian American musician representation has increased from 9.2% in 2013/14 to 11% in 2022/23 — a growth that was only within larger budget orchestras. 
Black or African American musician representation improved very slightly, Hispanic/Latinx representation increased from 2.5% to 4.8%, Multiracial representation increased from 0.8% to 2.4%, while American Indian and Alaska Native and Native Hawaiian and Other Pacific Islander representation remained static, at around 0.1%.
Written and researched by Dr. Antonio C. Cuyler, Evan Linett, and Dr. Karen Yair (LAO's vice president of research and resources), the report also states around 40 orchestras, including the Dallas, San Francisco, Cincinnati, and Atlanta Symphonies, which have actively taken steps to improve representation and provided fellowships to support underrepresented groups.
"Every orchestra has its own unique story to tell within the national narrative we present in this report — not only about diversity of representation, but also about its own progress toward building an inclusive and equitable organizational culture," the report stated.
"Orchestras taking the kinds of actions outlined in the League's Promising Practices guide are building strong foundations," it added. "We urge all orchestras to continue to invest in this work and to commit to accelerating the pace of change for the future."