The New York Philharmonic Chorus Appoints First Director
Conductor and baritone Malcolm J. Merriweather has assumed the role of the newly formed ensemble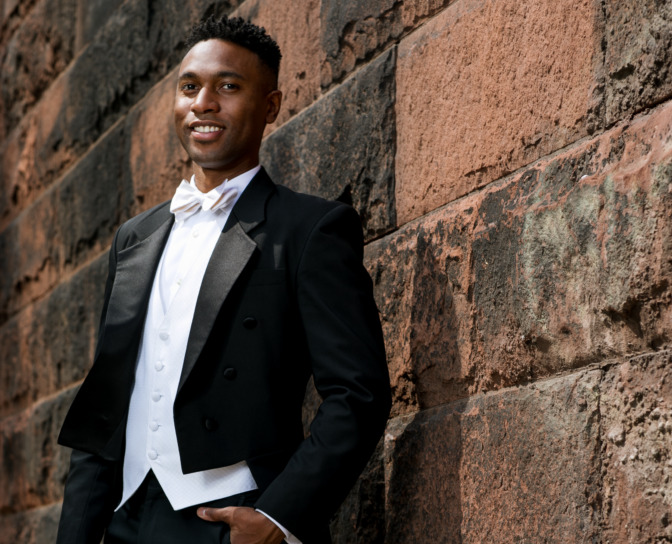 (Image courtesy: Malcolm J. Merriweather)
Malcolm J. Merriweather will lead the New York Philharmonic Chorus as director in its premiere performances at the upcoming David Geffen Hall Opening Galas.
The chorus was established by the New York Philharmonic to mark the reopening of David Geffen Hall this season following extensive renovations. The ensemble comprises New York-based and freelance professional vocalists, who will appear in four of the NY Phil's programs over the 2022/23 season.
Merriweather also serves as music director of New York City's acclaimed The Dessoff Choirs, plus as associate professor, director of choral studies, and voice department coordinator of New York's Brooklyn College. 
He is also the artistic director of "Voices of Haiti," a children's choir supported by the Andrea Bocelli Foundation, and has guest-lectured at Yale University and Columbia University. 
As a baritone, Merriweather has performed solo with the Boston Symphony Orchestra, The Dessoff Choirs, New York Choral Society, and New York City's Bach Vespers Choir and Orchestra. He has conducted ensembles in venues including Carnegie Hall, Lincoln Center, The Metropolitan Museum of Art, and New York's Madison Square Garden, plus London's Westminster Abbey and the Vatican, before Pope Francis. 
A fellowship recipient at Norfolk Chamber Music Festival and the Tanglewood Music Center, Merriweather studied with Rita Shane and is a graduate of the Eastman School of Music, Manhattan School of Music, and Syracuse University.
Merriweather's upcoming performances include leading the New York Philharmonic Chorus on October 26, 2022, in "The Journey," a debut concert featuring leading opera and broadway artists including Renée Fleming, Lin-Manuel Miranda, Brian Stokes Mitchell, Bernadette Peters, and Vanessa Williams. 
This will be followed by "The Joy" on October 28, which will see the world premiere of a New York Philharmonic-commissioned work by Angélica Negrón, with text by Ricardo Alberto Maldonado. Beethoven's Symphony No. 9 will also be performed and led by conductor Jaap van Zweden.