Theater in Lincoln Center's David Geffen Hall Named "Wu Tsai Theater"
The "Wu Tsai Theater" will be named after donors Clara and Joe Wu Tsai, who gave $50 million to the David Geffen rebuild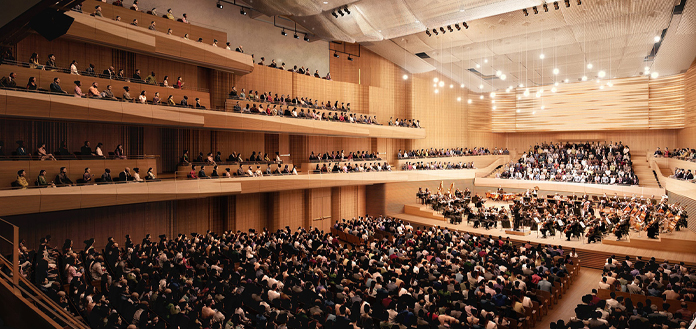 David Geffen Hall, the home of the New York Philharmonic, is set to re-open almost two years early following a significant rebuild. Lincoln Center recently announced that its theater is to be named "Wu Tsai Theater," to honor major donors Clara and Joe Wu Tsai.
The pair made a landmark gift of $50 million at the end of 2020, which played a crucial role in the acceleration of the project's timeline.
The donation meant that even in the middle of a pandemic, the rebuild project was able to proceed on pace — and, in line with Clara and Joe's values, 42% of construction participation was derived from women- and minority-owned businesses.
In addition to the naming of the theater, David Geffen Hall will also host a new annual "Wu Tsai Series," which aims to celebrate diverse artists and socially engaged works.
"Joe and I are ardent lovers of the arts, and passionate about the role they play in our civic wellbeing," said Clara Wu Tsai, Founder of the Joe and Clara Tsai Foundation and member of Lincoln Center's Board of Directors.
"We are particularly passionate about Lincoln Center's commitment to broadening the voices represented on stage and reaching new audiences, to help create a more equitable and dynamic future in the arts. We could not be more pleased to support this amazing project for New York City."
"The New York Philharmonic is eager to begin a new era with our return to the new David Geffen Hall, and with the Orchestra performing in the reimagined Wu Tsai Theater," said Peter W. May, New York Philharmonic Board Co-Chairman, also speaking on behalf of his fellow Co-Chairman Oscar L. Tang. "The journey to this point has been a long one, but the result will be well worth the wait."
"Joe and Clara's visionary gift is instrumental in helping to create what will be a concert hall not only for all New Yorkers but a truly 21st century home for music that is open and embracing to the world," said Deborah Borda, President and CEO of the New York Philharmonic.