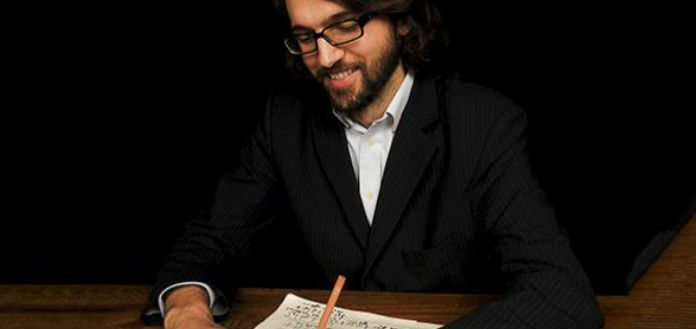 The Violin Channel the week caught up with British composer Thomas Hewitt Jones – who recently wrote and recorded a Christmas-themed Violin Concerto dedicated to his brother, violinist Simon Hewitt Jones.
In a VC-exclusive blog, Thomas talks us through how his fun seasonal work came to fruition.
CHRISTMAS PARTY | THOMAS HEWITT JONES | SIMON HEWITT JONES | GAVIN SUTHERLAND & ROYAL BALLET SINFONIA
"I've been drawn to writing Christmas music ever since I left university. Everyone loves a good tune at Christmas, and for me it's one of those special times of year when I can put aside my concert and commercial commissions and write something just for the fun of it.
I composed my first carol, 'Child of the Stable's Secret Birth' (Oxford University Press) in 2009, and since then, my Christmas choral music has become popular with choirs all around the world. A few years later, I started writing seasonal music for orchestras as well, and my suite 'A Traditional Christmas' is now played regularly on Classic FM every December.
Whilst looking for a fun collaboration earlier this year with my brother Simon Hewitt Jones (violinist and director of ViolinSchool), it became obvious to me that the violin repertoire lacked a fun, popular and virtuoso piece with a Christmassy theme. We had been discussing the idea of collaborating on a concerto for a while, and the result was 'Christmas Party'! It is, I hope, a very entertaining showpiece – the world's first Christmas concerto for solo violin and orchestra!
In writing the work I have weaved some of the best-loved Christmas carols into a 7-and-a-half minute long fantasia which explores some of the most virtuosic violin-playing techniques. The opening and closing bars include references to the famous tune 'Joy to the World', and the structure of the piece involves many of the most celebrated European Christmas songs, taking the listener on a seasonal journey through a plethora of countries and traditions before building to a rousing finale.
The first Christmas carols were pagan songs unassociated with Christmas, which accompanied dances during the Winter Solstice celebrations. Although Christmas was first celebrated in song in the Middle Ages, most of the famous carols we hear today are less than 200 years old, thanks to the Victorian revival of Christmas (helped in no small way by Charles Dickens). One of the carols I included in 'Christmas Party' is I Saw Three Ships, a traditional English tune first published in 1666!
The overall aim in writing this work was therefore to write a new violin piece which could be enjoyed by players and audiences alike, while celebrating both the tradition of Christmas and the very best of the modern festive season. Myself and Encore Publications (the publisher of this piece) made the decision early on that it should be a work which supplements the catalogue of existing violin music, providing violinists with a fun piece to perform at Christmas. I therefore scored the work for violin solo and full orchestra, but also with the option of a violin and piano version.
I am thrilled that Signum Records is releasing the recording of 'Christmas Party', and it's a particular pleasure that it was performed so wonderfully by Simon and the Royal Ballet Sinfonia conducted by Gavin Sutherland. Gavin and I have worked together in the studio several times, and I admire him greatly as a conductor and musician. He has collaborated many times with my producer, Philip Lane, so the rapport in the studio was just amazing, and it was a joy to work with them both on this recording.
– Thomas" 
Comments
comments