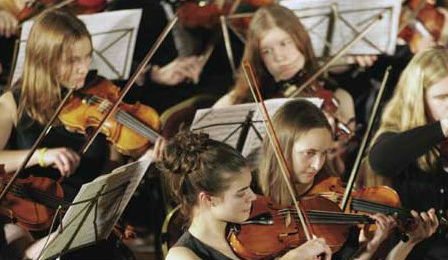 A experimental Canadian string ensemble has put out the call for 1000 volunteer string players for a radical one-time large-scale performance of John Oswald's 'Spectre', in Toronto.
Scored for all ages and technical levels, the #1000Strings project will take place in Yonge-Dundas Square, in Toronto on Saturday September 5th.
"All you have to be able to play is a long sustained open A, glissando and a pizzicato," the performance organisers have said.
"Spectre", which runs for 6 minutes and 30 seconds, was originally commissioned in 1990 for the famed Kronos Quartet - but has been re-orchestrated for the project, by the composer with multiple overdubs.
The project's website has listed violinists Barry Shiffman, Catherine Cosbey, Edwin Huizinga, Suhashini Arulanandam and Christopher Verrette, violist Rory McLeod, cellists Leo Zhang, Rachel Desoer and Carina Reeves and bassist Chris Adriaanse as the orchestral section leaders for the performance.
To register, visit: 1000stringstoronto.eventbrite.ca