BREAKING | TwoSet Violin Smash $50,000 World Tour KickStarter Goal in 5 Days
TwoSet Violin have just minutes ago met their $50,000 kickstarter goal – to be now used to fund the launch of a world tour of live TwoSet Violin shows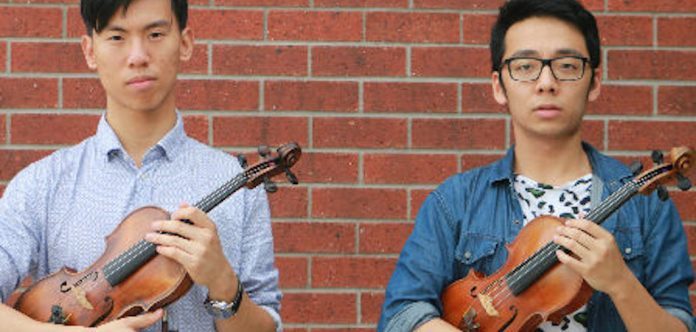 Australian TwoSet Violin funsters Brett Yang and Eddy Chen have just minutes ago met their AUD $50,000 crowdsourced kickstarter goal – to be now used to fund the launch of a world tour of live TwoSet Violin shows.
"We did it!! We just did it!! I can't believe this!! Holy crap!!" Brett 'Bang" Yang has told The Violin Channel.
"TwoSet World Tour is coming! TwoSet World Tour is coming! 10 International Cities!" he has screamed.
We are 99% there!


Posted by Twoset Violin on Thursday, 30 March 2017
The $50,000 in online pledges will be used to facilitate live performances in 10 international cities – including London, New York, Berlin, Singapore, Warsaw and Paris.
The insistent duo have been involved in a 5 day non-stop 'busking marathon' on the streets of Sydney, including 4 sleepless nights in an inner-city park – with a large proportion of the daily capers being broadcast live to 100,000+ Facebook Livestream viewers.
Sorry for the glitches. Changing phones and wifi. Take 4 of nonstop busking.
Pledge now! https://www.kickstarter.com/projects/529836677/first-crowdfunded-classical-world-tour

Posted by Twoset Violin on Saturday, 25 March 2017
"Thank you so much everybody … this is the best day of my life!" Eddy 'Shreddy' Chen has said.
"... And now we get to the very cool part of planning out everything ... planning out how we are going to meet you all ... play with you all ... and dab with you all," he has said.
The duo have indicated they will continue the online campaign for the next 25 days - with every $10,000 they raise over the original goal they will add another city to the tour.
"We can finally sleep … We don't have to sleep outdoors anymore! OMFG!" they have said.
The duo will spend this evening in the Swissôtel Hotel in Sydney City - courtesy of D'Addario Orchestral.