BREAKING | TwoSet Violin Raise $17,000+ On Day 1 of Tour-Funding Busking Marathon [HELP]
Brett Yang and Eddy Chen have raised more than $17,000 on Day 1 of their kickstarter campaign – launched to fund a world tour of live TwoSet Violin shows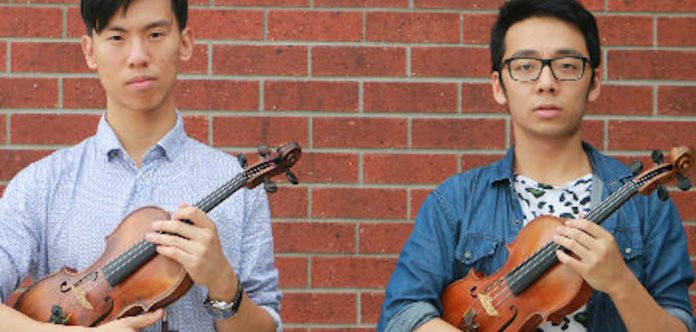 Australian TwoSet Violin funsters Brett Yang and Eddy Chen have raised more than AUD $17,000 within the first 24 hours of their crowdsourced kickstarter campaign – launched to fund a world tour of live TwoSet Violin shows.
The initial goal of the online appeal is to raise $50,000 Australian dollars – to facilitate live performances in 10 international cities - including London, New York, Berlin, Singapore, Warsaw and Paris.
The insistent duo have committed to playing a 'busking marathon' on the streets of Sydney non-stop until the target is reached - with a large proportion of the daily capers being broadcast live to 100,000+ Facebook Livestream viewers.
Sorry for the glitches. Changing phones and wifi. Take 4 of nonstop busking.
Pledge now! https://www.kickstarter.com/projects/529836677/first-crowdfunded-classical-world-tour

Posted by Twoset Violin on Saturday, 25 March 2017
"We've all known for a long enough that the arts are underfunded … but we don't want to just complain about it … we want to do something … we want to become the very first classical music crowdfunded international world tour …" Brett 'Bang' Yang has told The Violin Channel.
"We are not going home until we get to $50,000  …. even if it takes days or weeks … Help us! Plllleeeeeeeeeeeeease!" he has urged.
Highlights of day 1's Facebook Live streaming have included:
12+ hours of playing and moving to comply with Sydney's strict busking regulations.
A number of truely heartfelt collaborations with local musicians - including a glorious impromptu 4 violin performance of Bach's Double Concerto with 10 and 11 year old local violinists Luke and Nicholas.
Brett and Eddy getting asked to leave Sydney's Pitt Street Mall by security for not having their busking permit displayed.
The pair being asked to move on by local Police at Sydney's Circular Key for playing in the non designated area.
Eddy receiving a new livestream nickname: 'Shreddy Chen' - based on his skillful rendition of Ysaye's 3rd Sonata in the outdoor mall.
The exhausted, yet cautious duo attempting to sleep outdoors on a park bench at 2am in Sydney's Hyde Park.
First night sleeping outside. Looking for our sleeping spot. On the streets until 50k! Please pledge!


Posted by Twoset Violin on Sunday, 26 March 2017
"I'm tired as all hell ... my arms are dying … I have a vein popping under my eye that I've never seen before …. and I can't feel my hands anymore … but we are not going home until we get this …" Eddy 'Shreddy' Chen has told The Violin Channel.
"Like and love … tag a friend who you think can help us get off the streets!" he has said.
6 hours in! Thank you all so much for the love. We have raised $10,000 already! Only $40,000 to go. Please join us at www.twosetviolin.com/kickstarter
Lots of love
Brett & Eddy

Posted by Twoset Violin on Saturday, 25 March 2017
You can follow the duo live at: https://www.facebook.com/TwoSetViolin
And pledge at: https://www.kickstarter.com/projects/529836677/first-crowdfunded-classical-world-tour
For as little as a $1 online donation you will receive a viola joke emailed to you.
The pair have also indicated that for every $10,000 above the initial goal, they pledge to add another city to the touring cavalcade.
Share and get pledging.