Vadim Gluzman Honors Violinist Henryk Szeryng
The North Shore Chamber Music Festival will present a tribute concert to Henryk Szeryng on December 18, 2022
As part of their Onstage/Offstage series, The North Shore Chamber Music Festival will honor the legendary violinist and humanitarian, Polish-Mexican violinist Henryk Szeryng.
The in-person event will take place at PianoForte, in Chicago, on December 3, 2022, and will be broadcast on The Violin Channel on Sunday, December 18, 2022.
In this tribute to Maestro Szeryng's extraordinary life and legacy, the event will include conversations with festival artists, special guests, and the Arkady Fomin Scholarship recipient, Julian Rhee. The night will also feature excerpts of seminal recordings from Szeryng's glittering discography.
Musicians to perform include violinists Vadim Gluzman and Julian Rhee and pianists William Wolfram and Angela Yoffe.
The Violin Channel caught up with Vadim Gluzman to discuss the North Shore Chamber Music Festival and Henryk Szeryng. 
Tell us about the North Shore Chamber Music Festival. When was it founded and what is its main mission?
The first season of the Festival took place in 2011. Our dream has always been to enrich and give back to the community, to bring the joy, excitement, and inspiration of world-class performances to Chicago's North Shore. We aim to connect the most extraordinary artists and bright new talents to our wonderful audience in a beautiful and intimate setting. An important mission of the festival is encouraging and supporting talented young artists through the activities of Arkady Fomin Scholarship Fund, established in 2015.
On December 18th, we will be streaming here, on The Violin Channel, a special concert, "A Tribute to Legendary Violinist Henryk Szeryng." How did you decide to program this event?
This event is a first in what we envision to be our new series of events called "Masters of past, present and future."
Classical music and art, in general, have always been deeply rooted in the great tradition of the past, its connection to the present, and its continuance to the future. We will create a kind of time-bridge between the legendary artists, great performers of our day, and the new generation of musicians in multimedia events — which will include exclusive interviews, historical footage, and live performances.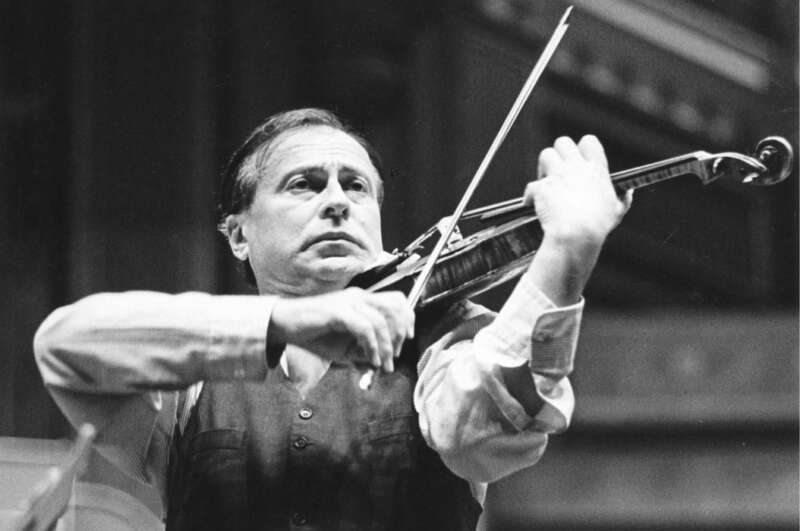 Can you tell us about your personal association with the great violinist, Henryk Szeryng?
I wish I could say I have met Maestro Szeryng… Alas, Henryk Szeryng had passed away in 1988, just short of his 70th birthday. At that time. I was still living in what used to be the Soviet Union behind the iron curtain. In 1994, I was fortunate to win the Henryk Szeryng Foundation Career Award in Monaco, which truly gave a start to my performing career. Led by Mrs. Waltraud Szeryng, the Foundation provided support, guidance, and numerous performance opportunities to winners of the Award. Under the Foundation's auspices, I made my first recordings as well as debuts in New York, Paris, Berlin, Rome, and many other important music centers. I really could not overestimate the importance of these events in my life.
To this day I am enormously grateful and we are always in close contact with Mrs. Szeryng. Of course, through her, through her wonderful stories and memories which she had shared over the years, through incredible recordings, materials, scores, and videos from the great artist's archives, I feel a great connection to Henryk Szeryng, his extraordinary artistry, and humanity!
What would you say has been Henryk Szeryng's most impactful contribution to the violin and music world? What, in your opinion, made him so special? 
Undoubtedly, Henryk Szeryng belongs to the "pantheon" of the greatest musicians of all time. Luckily for us, he left an enormous discography that gives us an incredible view of his artistry. Szeryng's elegance, sophistication, depth of emotion, and absolute dedication to the score are truly one of a kind. His mastery of the instrument were second to none — he was a true aristocrat among violinists!
Szeryng's dedication to philanthropy, cultural diplomacy, education, and support of young musicians is a side of his life, that perhaps is lesser known to the general public. He gave in order to give, not in order to be recognized. Szeryng has donated Stradivari and Guarneri violins from his collection to the Israel Philharmonic, and Mexican National Orchestra, and gifted numerous instruments to young talented musicians — the extraordinary violinist Shlomo Mintz was one of them. To quote the great artist himself:
"To breathe is to want,
To want is to get,
To get is to give,
To give is to live,
To live is to love"
These and many other aspects of Henryk Szeryng's life will be discussed in an exclusive interview with Mrs. Waltraud Szeryng as a part of our event!
Can you tell us about the musicians who will be joining you for this event? And how you decided on the program for the evening?
North Shore Chamber Music Festival has always been a festival for friends, by friends. Continuing this tradition, we have invited two wonderful artists to join us – pianist William Wolfram and violinist Julian Rhee.
Mr. Wolfram has been performing at the festival since its inception. Winner of Tchaikovsky, Kapell, and Naumburg competitions, Mr. Wolfram has been often compared to the great 'golden' generation of musicians!
Also performing with us is the brilliant young violinist Julian Rhee — VC Artist, laureate of 2022 Indianapolis International Violin Competition, and a recipient of our Arkady Fomin Scholarship Fund. We are very proud of Julian and are happy to see his artistry blossom so beautifully!
How would you like Henryk Szeryng to be remembered in history?
I think it is important to remember this great musician and violinist, as someone who gave all of himself in music as well as in life without expecting anything in return!
Please join us for this very special event, and celebrate the life and artistry of the legendary Henryk Szeryng!