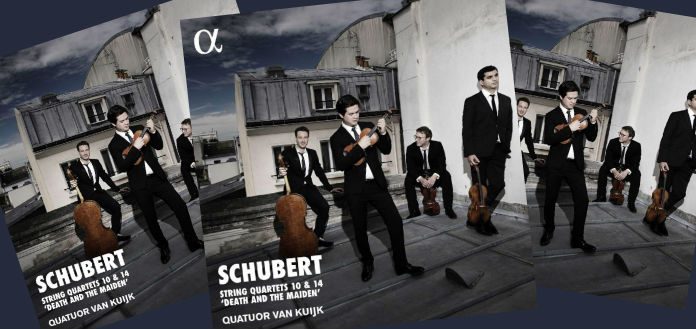 Alpha Records has announced the release of the Paris-based Van Kuijk Quartet's new album: Schubert: String Quartets Nos. 10 & 14.
The disc features Schubert's String Quartet No. 10 in E flat Major - and the 'Death and the Maiden' String Quartet No. 14 in D Minor.
"Schubert's Death and the Maiden Quartet was the starting point for this disc, as it's one of the masterpieces of the string quartet repertoire that can truly make you fall in love with the genre ..." 1st violinist Nicolas Van Kuijk has told The Violin Channel.
"From there, we decided to propose two sides of the same composer ... we find it interesting to study the earlier pieces of a composer as a way to fully understand their mature works," he has said.
"We consider ourselves storytellers, not just musicians ... it is our goal to lead the listener through all dimensions of the drama ... as in a movie, we aimed to heighten every detail of the score, bringing it to life for the listener following the story with us."