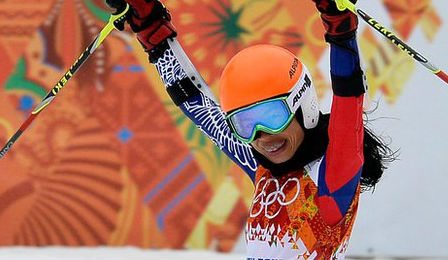 Violinist Vanessa Mae has finished 74th in the Women's Giant Slalom Final at the Sochi Winter Olympics, this morning.
Mae, 35 finished the course in 1 minute and 44.85 seconds -  almost 27 seconds behind gold medal winner Tina Maze, from Slovenia.
The poor rain-sodden conditions saw 15 fellow competitors fall and fail to finish their runs.
Skiing for her father's native Thailand, and competing under the name Vanessa Vanakorn, she has told reporters she was happy just to have realised her dream of competing at an Olympic Games.
"The experience of being here is amazing … you've got the elite skiers of the world and then you've got some mad old woman like me trying to make it down," she has told BBC Sport.