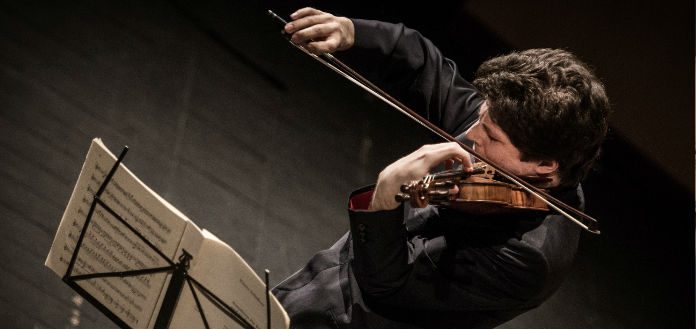 Italian-born German-American violinist Augustin Hadelich has firmly established himself is one of the new generation's top-tier concert virtuosi.
A graduate of the Istituto Mascagni and The Juilliard School, Augustin was awarded 1st prize at the 2006 Indianapolis International Violin Competition – and was the recipient of the inaugural 2015 Warner Music Prize, a 2009 Avery Fisher Career Grant and a 2011 Borletti-Buitoni Trust Fellowship.
In February 2016, he was awarded the Grammy Award for the 'Best Classical Instrumental Solo' – for his recording of Dutilleux's Violin Concerto with Ludovic Morlot and the Seattle Symphony Orchestra.
Highlights of his 2016/17 season include return solo engagements with the New York Philharmonic, Los Angeles Philharmonic, Dallas Symphony, Danish National Orchestra, San Diego Symphony, and Saint Louis Symphony – and debuts with the Hamburg Philharmonic, Munich Philharmonic, Rotterdam Philharmonic, and the radio orchestras of Cologne and Frankfurt.
Augustin currently performs on the 1723 "Ex-Kiesewetter" Stradivari violin – on generous loan from Clement and Karen Arrison and the Stradivari Society of Chicago.
AUGUSTIN HADELICH | VC 20 QUESTIONS | INTERVIEW
AUGUSTIN HADELICH & JOYCE YANG | FRANCK | VIOLIN SONATA IN A MAJOR | 2ND MVT 
AUGUSTIN HADELICH | PAGANINI | CAPRICE NO. 5 FOR SOLO VIOLIN
AUGUSTIN HADELICH & KUANG-HAO HUANG | SARASATE | CARMEN FANTASY 
AUGUSTIN HADELICH & CHARLES OWEN | SCHUMANN | VIOLIN SONATA NO. 1
AUGUSTIN HADELICH | YSAYE | SONATA NO. 3 FOR SOLO VIOLIN "BALLADE"
AUGUSTIN HADELICH & AKIRA EGUCHI | SARASATE | ZAPATEADO 
AUGUSTIN HADELICH | YSAYE | SONATA NO. 5 FOR SOLO VIOLIN "L'AURORE"
AUGUSTIN HADELICH & AKIRA EGUCHI | SARASATE | ZIGEUNERWEISEN 
AUGUSTIN HADELICH | TCHAIKOVSKY | VALSE-SCHERZO | ORPHEUS CHAMBER ORCHESTRA 
AUGUSTIN HADELICH | DVORAK VIOLIN CONCERTO | CHRISTOPH POPPEN & GERMAN RADIO PHILHARMONIC | 2010
Name: Augustin Hadelich
Violin: 1723 Stravidari "Ex-Kiesewetter"
Bow: Paul Simon
Rosin: Motria Gold
Shoulder Rest:  small sponge only
Teacher: Joel Smirnoff, Uto Ughi, Christoph Poppen, Igor Ozim & Norbert Brainin
Comments
comments