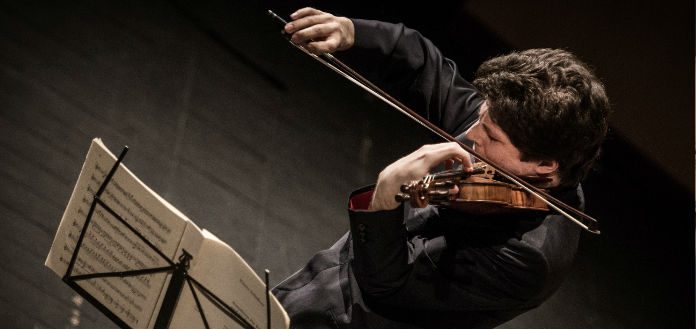 Italian-born German-American violinist Augustin Hadelich has firmly established himself as one of the new generation's top-tier concert virtuosi.
A graduate of the Istituto Mascagni and The Juilliard School, Augustin is a former 1st prize winner at the Indianapolis International Violin Competition – and a recipient of a prestigious Avery Fisher Career Grant, Borletti-Buitoni Trust Fellowship and the inaugural 2015 Warner Music Prize.
In 2016, he was awarded the Grammy Award for the 'Best Classical Instrumental Solo', for his recording of Dutilleux's Violin Concerto with Ludovic Morlot and the Seattle Symphony Orchestra – and he was recently honored by Musical America as the 2018 'Instrumentalist of the Year'.
Highlights of his 2016/17 season include return solo engagements with the New York Philharmonic, Los Angeles Philharmonic, Dallas Symphony, Danish National Orchestra, San Diego Symphony, and Saint Louis Symphony – and debut performances with the Hamburg Philharmonic, Munich Philharmonic, Rotterdam Philharmonic and the Cologne and Frankfurt Radio Symphony Orchestras.
Augustin currently performs on the 1723 "Ex-Kiesewetter" Stradivari violin – on generous loan from Clement and Karen Arrison and the Stradivari Society of Chicago.
His recording of Paganini's 24 Caprices will be released on January 12th, 2018 – on the Warner Classics label.
He was recently presented with an honorary doctorate from the University of Exeter, in the United Kingdom.
VC ARTIST AUGUSTIN HADELICH | BARTOK | VIOLIN CONCERTO NO. 2 | VASILY PETRENKO & DANISH NATIONAL ORCHESTRA | 2017
VC ARTIST AUGUSTIN HADELICH | BRAHMS VIOLIN CONCERTO | MIGUEL HARTH-BEDOYA & NORWEGIAN RADIO ORCHESTRA | 2017
VC ARTIST AUGUSTIN HADELICH & JOYCE YANG | FRANCK | VIOLIN SONATA IN A MAJOR | 4TH MVT | 2015
VC ARTIST AUGUSTIN HADELICH | PAGANINI | CAPRICE NO. 11 | 2017
VC ARTIST AUGUSTIN HADELICH | PAGANINI | CAPRICE NO. 21 | 2017
VC ARTIST AUGUSTIN HADELICH & CHARLES OWEN | BEETHOVEN | VIOLIN SONATA NO. 4 IN C MINOR, OP. 23 | 2017
VC ARTIST AUGUSTIN HADELICH & CHARLES OWEN | PONCE (ARR. HEIFETZ) | ESTRELLITA | 2017
VC ARTIST AUGUSTIN HADELICH | YSAYE | SONATA NO. 3 FOR SOLO VIOLIN "BALLADE" | 2015
---
Name: Augustin Hadelich
Violin: 1723 Stradivari "Ex-Kiesewetter"
Bow: Paul Simon
Rosin: Motria Gold
Shoulder Rest:  small sponge only
Teacher: Joel Smirnoff, Uto Ughi, Christoph Poppen, Igor Ozim & Norbert Brainin
---
Comments
comments