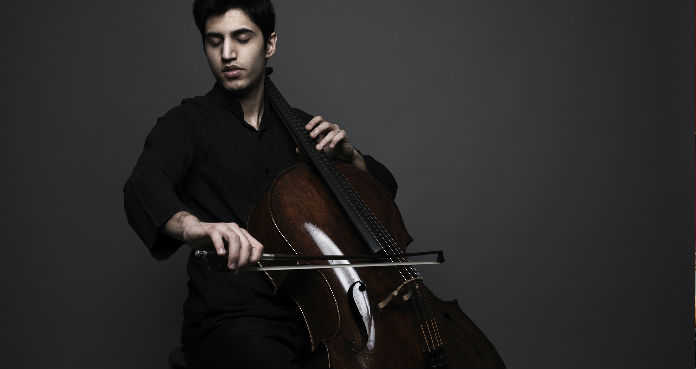 24 year old Persian-Austrian cello virtuoso Kian Soltani has in recently years firmly established an international reputation as one of the new generation's most prodigious young concert artists – praised for his technical mastery and profound, mature conviction.
A graduate of the City of Basel Music Academy and the Kronberg Academy, where he studied with Ivan Monighetti and Frans Helmerson, Kian is a former 1st prize winner at the Antonio Janigro, Karl Davidof and Paulo International Cello Competitions.
His recent debuts include solo engagements with the Zürich Tonhalle Orchestra, Basel Symphony Orchestra, Kremerata Baltica, Queensland Symphony, Bergen Philharmonic Orchestra, West-Eastern Divan Orchestra, Helsinki Philharmonic Orchestra, Kammerakademie Potsdam and the Zagreb Philharmonic Orchestra.
Kian has toured recently as a soloist with the West-Eastern Divan Orchestra, performing Beethoven's Triple Concerto with pianist and conductor Daniel Barenboim – and is a current member of the Anne-Sophie Mutter Foundation.
KIAN SOLTANI | HAYDN | CELLO CONCERTO IN C MAJOR | 3RD MVT | OLE KRISTIAN RUDD & BERGEN PHILHARMONIC ORCHESTRA | 2016
KIAN SOLTANI & PETRIT CEKU | PIAZZOLLA | NIGHT CLUB 1960 FROM "HISTORY OF THE TANGO" | 2016
KIAN SOLTANI | DVORAK CELLO CONCERTO | 2ND MVT | ELISABETH FUCHS & ZAGREB PHILHARMONIC | 2014
KIAN SOLTANI | DVORAK CELLO CONCERTO | 3RD MVT | ELISABETH FUCHS & ZAGREB PHILHARMONIC | 2014
KIAN SOLTANI & AARON PILSAN | SCHUBERT | NACHT UND TRAUME | 2016
KIAN SOLTANI, DANIEL BARENBOIM & GUY BRAUNSTEIN | BEETHOVEN | TRIPLE CONCERTO | 1ST MVT | WEST-EASTERN DIVAN ORCHESTRA | 2015
KIAN SOLTANI & AARON PILSAN | NEW YORK HONK | THOMAS DEMENGA | 2016
KIAN SOLTANI | POPPER | HUNGARIAN RHAPSODY | ZAGREB SOLOISTS | 2012
KIAN SOLTANI | WITOLD LUTOSLAWSKI | CELLO CONCERTO | 2013 PAULO CELLO COMPETITION | JOHN STORGARDS & HELSINKI PHILHARMONIC ORCHESTRA
KIAN SOLTANI | ORIGINAL COMPOSITION | PERSIAN FIRE DANCE | 2012
Name: Kian Soltani
Teacher: Frans Helmerson, Ivan Monighetti
Comments
comments