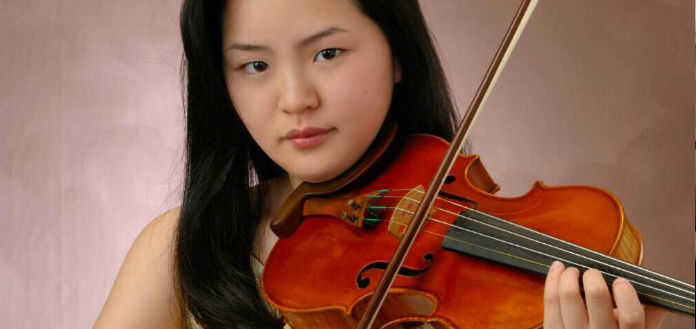 17 year old Japanese violinist, Minami Yoshida is firmly establishing herself as one of the new rising stars of the international concert stage.
A student of Koichiro Harada and Yuko Washio at the Toho Gakuen Music High School, she was recently awarded major prizes at the Montreal and Sibelius International Violin Competitions.
Minami's recent solo engagements include performances with the Helsinki Philharmonic Orchestra, Finnish Radio Symphony Orchestra, Orchestre Symphonique de Montréal, Tokyo Symphony Orchestra, Tokyo Philharmonic Orchestra, Tokyo Metropolitan Symphony Orchestra, Osaka Philharmonic Orchestra, Kanagawa Philharmonic Orchestra and the Kyoto Symphony Orchestra.
She currently performs on a 1735 Petrus Guarnerius violin – on generous loan from an individual collector.
MINAMI YOSHIDA | SIBELIUS | VIOLIN CONCERTO | 1ST MVT | 2015 SIBELIUS INTERNATIONAL VIOLIN COMPETITION
MINAMI YOSHIDA | SIBELIUS | VIOLIN CONCERTO | 2ND MVT | 2015 SIBELIUS INTERNATIONAL VIOLIN COMPETITION
MINAMI YOSHIDA | SIBELIUS | VIOLIN CONCERTO | 3RD MVT | 2015 SIBELIUS INTERNATIONAL VIOLIN COMPETITION
MINAMI YOSHIDA & JEAN DESMARAIS | TCHAIKOVSKY | VALSE SCHERZO, OP. 34 | 2016 MONTREAL INTERNATIONAL VIOLIN COMPETITION
MINAMI YOSHIDA | KREISLER | RECITATIVO AND SCHERZO CAPRICE | 2016 MONTREAL INTERNATIONAL VIOLIN COMPETITION
MINAMI YOSHIDA & JEAN DESMARAIS | STRAUSS | SONATA IN E FLAT MAJOR | 2016 MONTREAL INTERNATIONAL VIOLIN COMPETITION
MINAMI YOSHIDA & NAOKO ICHIHASHI | SIBELIUS | HUMORESQUES NO. 1 & 2 | 2015 SIBELIUS INTERNATIONAL VIOLIN COMPETITION
MINAMI YOSHIDA | YSAYE | CAPRICE D'APRES L'ETUDE EN FORME DE VALSE DE SAINT-SAENS | 2015 SIBELIUS INTERNATIONAL VIOLIN COMPETITION
Name: Minami Yoshida
Violin: 1735 Petrus Guarnerius Filius Joseph | Alexander d'Espine 
Bow: François Peccatte | Eugéne Sartory
Teachers: Koichiro Harada & Yuko Washio
School: Toho Gakuen Music High SchooI
Comments
comments