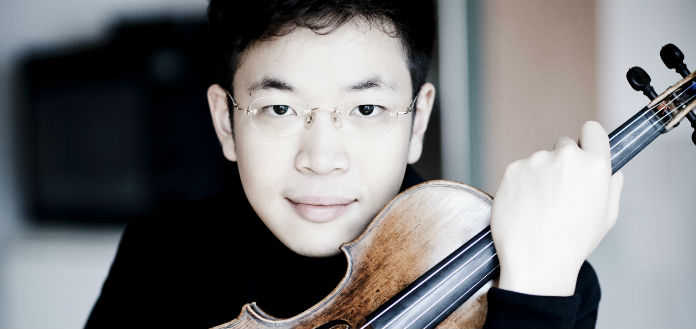 26 year old Taiwanese-American VC Artist Paul Huang is quickly building an impressive international reputation for his eloquent music making and effortless virtuosity.
A graduate of The Juilliard School, Paul is a former 1st prize winner at the Sion Valais International Violin Competition – and was recently awarded a prestigious 2015 Avery Fisher Career Grant.
His recent solo engagements include debuts with the Houston, Detroit, Alabama, Pacific and Omaha Symphonies, Santa Barbara Chamber Orchestra and the Louisiana and Seoul Philharmonic Orchestras.
The Washington Post recently wrote: '…big, luscious tone, spot-on intonation and a technique that makes the most punishing string phrases feel as natural as breathing…he is definitely an artist with the goods for a significant career'.
PAUL HUANG & WARREN JONES | SARASATE | ROMANZA ANDALUZA | CAMERATA PACIFICA | 2015
PAUL HUANG | BIOGRAPHY 
PAUL HUANG & BRIDGET KIBBEY | SAINT-SAENS | FANTASIE FOR VIOLIN & HARP | CAMERATA PACIFICA | 2015
PAUL HUANG | YSAYE | SOLO SONATA NO. 3 'GEORGES ENESCU' | 1ST & 2ND MVTS | CAMERATA PACIFICA | 2015
PAUL HUANG | VIVALDI | SUMMER FROM 'THE FOUR SEASONS' | GREAT MOUNTAIN MUSIC FESTIVAL | 2014 
PAUL HUANG & MICHAEL MCHALE | GRIEG | VIOLIN SONATA IN C MINOR | 1ST MVT | CAMERATA PACIFICA | 2014
PAUL HUANG & JESSICA OSBORNE | SAINT-SAENS | VIOLIN SONATA NO. 1 IN D MINOR | 1ST & 2ND MVTS
PAUL HUANG & JESSICA OSBORNE | SAINT-SAENS | VIOLIN SONATA NO. 1 IN D MINOR | 3RD & 4TH MVTS
PAUL HUANG & JESSICA OSBORNE | RAVEL | HABANERA | NEW YORK DEBUT | MERKIN CONCERT HALL | 2012
VC ARTIST PAUL HUANG | VC 20 QUESTIONS | INTERVIEW
Name: Paul Huang 
Violin: 1742 "ex-Wieniawski" Guarneri del Gesu
Bow: François Xavier Tourte
Teachers: Hyo Kang, I-Hao Lee
Comments
comments