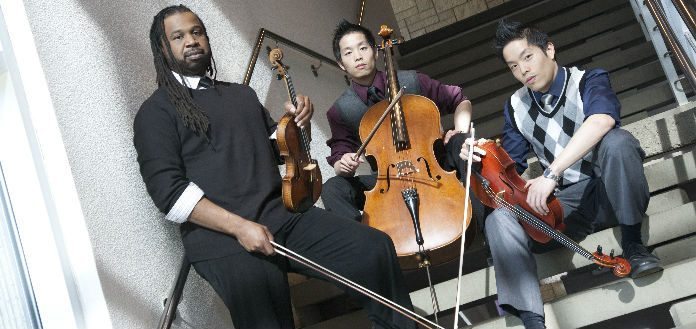 The Violin Channel recently caught up with the Canadian beatboxing string trio Infinitus.
In a VC-exclusive blog, Infinitus talks us through their background and their goal to contribute to the society through music.
"It's not every day that you see two Chinese twins and an African-American guy with dreadlocks beatboxing over acoustic string instruments, but that's how we do it here at "Infinitus"…we're a beatboxing string trio based out of Vancouver, British Columbia, Canada, made up of John "Adidam" Littlejohn (violin), Anthony Cheung (viola), Alex Cheung (cello).
Over time we've formed a unique style and sound, blending classical music with a flurry of genres from hip-hop to jazz to pop music.  We've taken that sound all over North America, concertizing extensively and performing in some of the world's best venues (including 3 residencies at the Lincoln Center in New York City).
INFINITUS | ALEX CHEUNG | MACHINATIO 
We're 3 string players who have been best friends since our freshman year at the University of Michigan, and decided to form Infinitus in 2008. In addition to our concerts, we've performed over 1000 education, community, and outreach concerts all over the U.S. and Canada, and we've also run 11 music camps, and continuously teach private students of various economic backgrounds how to become well-rounded string players.  For us, performing is about much more than applause (although the encouragement is nice); it's about saying what words cannot, and teaching others to speak the indescribable language of music.
Although "Infinitus" is the Latin root for "Infinity" – no limits or boundaries – our name is more of a dream than a reality. In fact, it's been our limitations that have made creativity a necessity, and as a result we've taken many aspects of our career into our own hands.
We couldn't find great arrangements –> We made our own.
Some of those arrangements needed a beat –> We learned to beatbox and play.
No original repertoire composed for a beatboxing string trio –> We composed our own.
We needed a recording of those compositions and arrangements –> We learned how to produce and record an album.
We needed graphics for that album –> We learned how to use Photoshop.
A big part of our mission is to make our instruments and music accessible to ALL audiences, and to remove the barriers that prevent potential string players from moving forward.  The biggest barrier is poverty, against which we're fighting an uphill battle.
In 2009, in the midst of a recession, we started a camp that's now known as Thrive City String Boot Camp, offering underprivileged string students from inner cities a chance to gain free intensive performance training in a nurturing environment. We operated it on a sliding-scale tuition based on how much the student could afford, and over time, we've learned that "need" takes many forms, and that 90% of string players need financial assistance to reach their highest potential as musicians.  
So this year we took a HUGE leap of faith this year and CANCELLED TUITION. That's right, no more tuition!  It's a crazy move, but we believe it's the right one. We'll begin accepting applications in January, so please find out more at: www.ThriveCityMusic.com
- Infinitus (John, Anthony and Alex)"