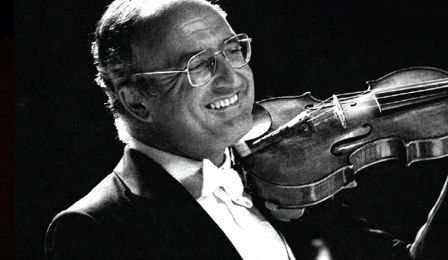 This week The Violin Channel explores the recordings of Italian violin virtuoso, Salvatore Accardo.
Now 74 years old, Maestro Accardo is a former 1st prize winner at the Geneva and Paganini International Violin Competitions - and is widely respected as one of the greatest exponents of the 20th Century Italian School.
[video_lightbox_youtube video_id="1TxHaBGW-io" width="590" height="385" auto_thumb="1" ]
SALVATORE ACCARDO | MILSTEIN | PAGANINIANA
He has produced an extensive recording discography, premiered a number of important new works - including compositions by Salvatore Sciarrino, Franco Donatoni, Ástor Piazzolla and Iannis Xenakis - and holds the distinguished honour of being the first person in history to record all 6 Paganini Violin Concerti.
For much of his performance career, Maestro Accardo has concertized on the 1727 'Hart ex Francescatti' Stradivarius.
[video_lightbox_youtube video_id="MsAQT1W_zyY" width="590" height="385" auto_thumb="1" ]
SALVATORE ACCARDO | VARIATIONS ON 'NEL COR PIU NON MI SENTO' FOR SOLO VIOLIN | 1972
[video_lightbox_youtube video_id="bAKj3JS7PtY" width="590" height="385" auto_thumb="1" ]
SALVATORE ACCARDO | TCHAIKOVKSY VIOLIN CONCERTO | 2ND MVT | DIADIURA | UKRAINE PHILHARMONIC
[video_lightbox_youtube video_id="9I8uRC62odQ" width="590" height="385" auto_thumb="1" ]
SALVATORE ACCARDO | DEBUSSY | MINSTRELS | 19 YEARS OLD |1960
[video_lightbox_youtube video_id="pSKS_GKhI5o" width="590" height="385" auto_thumb="1" ]
SALVATORE ACCARDO & BRUNO CANINO | MOZART SONATA FOR VIOLIN & PIANO IN B FLAT MAJOR KV 372
[video_lightbox_youtube video_id="TXnda3aWtis" width="590" height="385" auto_thumb="1" ]
SALVATORE ACCARDO | PAGANINI | SOLO CAPRICE NO. 24
[video_lightbox_youtube video_id="cGBZ_xq-8uY" width="590" height="385" auto_thumb="1" ]
SALVATORE ACCARDO | PAGANINI VIOLIN CONCERTO NO. 6 | 3RD MVT | CHARLES DUTOIT | LONDON PHILHARMONIC
[video_lightbox_youtube video_id="zCThQMrHMkA" width="590" height="385" auto_thumb="1" ]
SALVATORE ACCARDO | PAGANINI | LA CAMPANELLA
[video_lightbox_youtube video_id="t6pOpEzlHXg" width="590" height="385" auto_thumb="1" ]
SALVATORE ACCARDO | MENDELSSOHN | VIOLIN CONCERTO IN E MINOR
[video_lightbox_youtube video_id="SdH-ljY_3wE" width="590" height="385" auto_thumb="1" ]
SALVATORE ACCARDO | PAGANINI | VIOLIN CONCERTO NO. 1 | 1ST MVT | CHARLES DUTOIT | LONDON PHILHARMONIC
[video_lightbox_youtube video_id="jOvBUaqYXkA" width="590" height="385" auto_thumb="1" ]
SALVATORE ACCARDO | BACH | VIOLIN PARTITA NO. 2 IN D MINOR BWV 1004 | CHACONNE
[video_lightbox_youtube video_id="NPXAssSLbAI" width="590" height="385" auto_thumb="1" ]
SALVATORE ACCARDO | TARTINI | DEVIL'S TRILL SONATA