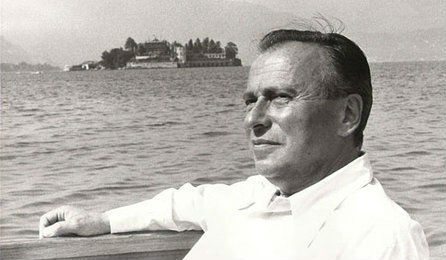 This week The Violin Channel explores the recordings of Jewish Polish-Mexican violin virtuoso, Henryk Szeryng.
A protégé of Carl Flesch and Jacques Thibaud, he fled Poland under persecution during the 2nd World War – eventually naturalising as a Mexican citizen.
Absent from the concert stage for more than a decade, in 1954 at the coercion of piano virtuoso Artur Rubinstein, Maestro Szeryng recommenced his concert career – going on to produce an extensive recording legacy of solo and chamber music literature.
He sadly died suddenly from a cerebral hemorrhage in 1988 – aged just 69.
[video_lightbox_youtube video_id="8_Ap0q6NeiU" width="590" height="385" auto_thumb="1" ]
HENRYK SZERYNG | BEETHOVEN | VIOLIN CONCERTO | 2ND MVT | HANS ZENDER | SAARBRUCKEN RADIO SYMPHONY
[video_lightbox_youtube video_id="0loGTQD7Lag" width="590" height="385" auto_thumb="1" ]
HENRYK SZERYNG | TCHAIKOVSKY | VIOLIN CONCERTO | 3RD MVT | MEHTA | ISRAEL PHILHARMONIC
[video_lightbox_youtube video_id="A5QaXr0ihwc" width="590" height="385" auto_thumb="1" ]
HENRYK SZERYNG & CHARLES REINER | BEETHOVEN | VIOLIN SONATA NO. 7 | 2ND MVT
[video_lightbox_youtube video_id="xKoNDGDUsFc" width="590" height="385" auto_thumb="1" ]
HENRYK SZERYNG | TCHAIKOVSKY | VIOLIN CONCERTO | 2ND MVT | MEHTA | ISRAEL PHILHARMONIC ORCHESTRA
[video_lightbox_youtube video_id="D2F9MToQ2PE" width="590" height="385" auto_thumb="1" ]
HENRYK SZERYNG & CHARLES REINER | SARASATE | ZAPATEADO | 1960
[video_lightbox_youtube video_id="66Lq1nHRp24" width="590" height="385" auto_thumb="1" ]
HENRYK SZERYNG | BACH | SOLO SONATA NO. 1 IN G MINOR | FUGUE
[video_lightbox_youtube video_id="nOgW9lKNH_o" width="590" height="385" auto_thumb="1" ]
HENRYK SZERYNG | CHAUSSON | POEME | MICHAEL TILSON THOMAS | BOSTON SYMPHONY
[video_lightbox_youtube video_id="qI2-1HzgWs8" width="590" height="385" auto_thumb="1" ]
HENRK SZERYNG & TASSO JANOPOULO | RAVEL | TZIGANE RHAPSODIE DE CONCERT
[video_lightbox_youtube video_id="a9aZU35so9A" width="590" height="385" auto_thumb="1" ]
HENRK SZERYNG | BARTOK | ROUMANIAN DANCES
[video_lightbox_youtube video_id="lkygGNCFffI" width="590" height="385" auto_thumb="1" ]
HENRK SZERYNG | KREISLER | RECITATIVO AND SCHERZO
[video_lightbox_youtube video_id="mxUuq3rdtv0" width="590" height="385" auto_thumb="1" ]
HENRK SZERYNG | BRAHMS | VIOLIN CONCERTO | JERUSALEM SYMPHONY ORCHESTRA
[video_lightbox_youtube video_id="c5YMKK-Typo" width="590" height="385" auto_thumb="1" ]
HENRK SZERYNG | BACH | CHACONNE
[video_lightbox_youtube video_id="lkygGNCFffI" width="590" height="385" auto_thumb="1" ]
HENRK SZERYNG & INGRID HAEBLER | BEETHOVEN | SONATA NO. 10 IN G MAJOR, OP. 96 | 1979
[video_lightbox_youtube video_id="0w3lkXanpOg" width="590" height="385" auto_thumb="1" ]
HENRK SZERYNG & CHARLES REINER | VITALI | CHACONNE
[video_lightbox_youtube video_id="LZ8057iGwdg" width="590" height="385" auto_thumb="1" ]
HENRK SZERYNG & HUGUETTE DREYFUS | HANDEL | VIOLIN SONATA NO. 4, OP. 1
[video_lightbox_youtube video_id="bH1qr7ccG3Y" width="590" height="385" auto_thumb="1" ]
HENRK SZERYNG, JANOS STARKER & CLAUDIO ARRAU | BEETHOVEN | TRIPLE CONCERTO | ELIAHU INBAL | NEW PHILHARMONIA ORCHESTRA | 1970
[video_lightbox_youtube video_id="UmrIZmS9QIg" width="590" height="385" auto_thumb="1" ]
HENRK SZERYNG | BACH | PARTITA NO. 2 IN D MINOR BWV 1004
[video_lightbox_youtube video_id="Zoani4IdZL0" width="590" height="385" auto_thumb="1" ]
HENRK SZERYNG | LALO | SYMPHONIE ESPAGNOLE | MONTE CARLO OPERA ORCHESTRA