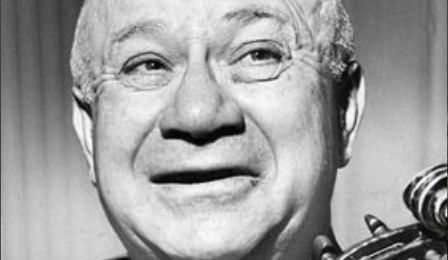 This week The Violin Channel explores the recordings of Russian-born American violin virtuoso Mischa Elman.
A celebrated child prodigy of famed pedagogue Leopold Auer, Maestro Elman is remembered for his passionate, Romantic style and warm, silvery tone.
He died unexpectedly in 1967, aged 76, just a few hours after completing a rehearsal, but thankfully bequeathed the world a treasured recording legacy – spanning more than 5 decades.
[video_lightbox_youtube video_id="50SMNJyx5II" width="590" height="385" auto_thumb="1"]
MISCHA ELMAN | MASSENET | MEDITATION FROM 'THAIS' | 1962
[video_lightbox_youtube video_id="Hc5ol6Jm15M" width="590" height="385" auto_thumb="1"]
MISCHA ELMAN & PEREY KAHN | SCHUMANN | TRAUMEREI | 1911
[video_lightbox_youtube video_id="N562mYwXLyY" width="590" height="385" auto_thumb="1"]
MISCHA ELMAN | BEETHOVEN VIOLIN CONCERTO | 1ST MVT | GEORGE SOLTI | LONDON PHILHARMONIC | 1955
[video_lightbox_youtube video_id="UqzyIyrHrFg" width="590" height="385" auto_thumb="1"]
MISCHA ELMAN | LALO | SYMPHONIE ESPAGNOLE | 1ST MVT | PIERRE MONTEUX | SAN FRANCISCO SYMPHONY ORCHESTRA | 1950
[video_lightbox_youtube video_id="W4eg3K1d-JI" width="590" height="385" auto_thumb="1"]
MISCHA ELMAN & CARROLL HOLLISTER | SARASATE | ZIGEUNERWEISEN | 1930
[video_lightbox_youtube video_id="11Jue1Bmoqk" width="590" height="385" auto_thumb="1"]
MISCHA ELMAN & JOSEPH SEIGER | KREISLER | PRAELUDIUM AND ALLEGRO
[video_lightbox_youtube video_id="1Xu0-vKo1WY" width="590" height="385" auto_thumb="1"]
MISCHA ELMAN | MOZART | VIOLIN CONCERTO NO. 5 IN A MAJOR | KRIPS | NEW SYMPHONY | 1955
[video_lightbox_youtube video_id="7MllbQSvmzc" width="590" height="385" auto_thumb="1"]
MISCHA ELMAN & JOSEF BONIME | GRIEG | NOCTURNE OP. 43 NO. 4 (ARR. ELMAN) | 1919
[video_lightbox_youtube video_id="oQyVqB-HVTI" width="590" height="385" auto_thumb="1"]
MISCHA ELMAN | DVORAK-KREISLER | SLAVONIC FANTASY | THE COLGATE COMEDY HOUR | 1954
[video_lightbox_youtube video_id="Mb4NZZM7-Tg" width="590" height="385" auto_thumb="1"]
MISCHA ELMAN | MENDELSSOHN | VIOLIN CONCERTO IN E MINOR | DESIRE DEFAUW | CHICAGO SYMPHONY ORCHESTRA
[video_lightbox_youtube video_id="478c2wVmDYs" width="590" height="385" auto_thumb="1"]
MISCHA ELMAN & JOSEPH SEIGER | SCHUBERT | AVE MARIA
[video_lightbox_youtube video_id="r3mOBUr1RYE" width="590" height="385" auto_thumb="1"]
MISCHA ELMAN | DVORAK | HUMORESQUE | VITAPHONE 1926
[video_lightbox_youtube video_id="478c2wVmDYs" width="590" height="385" auto_thumb="1"]
MISCHA ELMAN | SARASATE | CAPRICE BASQUE | 1910
[video_lightbox_youtube video_id="LlD8zwPhqAU" width="590" height="385" auto_thumb="1"]
MISCHA ELMAN | KREISLER | PREGHIERA IN THE STYLE OF PADRE MARTINI | 1962
[video_lightbox_youtube video_id="ciM6sKc897I" width="590" height="385" auto_thumb="1"]
MISCHA ELMAN | WIENIAWSKI | VIOLIN CONCERTO NO. 2 IN D MINOR, OP. 22 | 1ST MVT
[video_lightbox_youtube video_id="McQtARQ8poc" width="590" height="385" auto_thumb="1"]
MISCHA ELMAN & LEOPOLD MITTMAN | FAURE | VIOLIN SONATA NO. 1 IN A MAJOR, OP. 13 | 1941