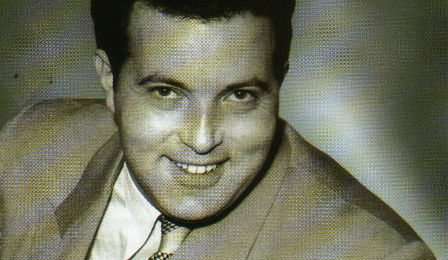 This week The Violin Channel explores the recordings of thwarted Russian-Ukrainian violin virtuoso Julian Sitkovetsky.
A student of eminent Soviet teacher Abram Yampolsky, Maestro Sitkovetsky is remembered for his broad, firm focused tone, flawless intonation and perfectly controlled bow strokes.
[video_lightbox_youtube video_id="PxHHfxkXvV8" width="590" height="385" auto_thumb="1"]
JULIAN SITKOVETSKY | KHACHATURIAN VIOLIN CONCERTO | 1ST MVT | NIYAZI | RUMANIAN SYMPHONY | 1954
A former prize winner at the Wieniawski and Queen Elisabeth International Violin Completions, he sadly passed away in 1956, aged just 32 - from lung cancer.
David Oistrakh once suggested that had he lived longer, Sitkovetsky would be remembered as one of the truly great virtuosi of all time - eclipsing both himself and Leonid Kogan.
[video_lightbox_youtube video_id="pG7GXlWYcjw" width="590" height="385" auto_thumb="1"]
JULIAN SITKOVETSKY & NAHUM WALTER | WIENIAWSKI | POLONAISE IN D MAJOR | 1954
[video_lightbox_youtube video_id="sZEps913vP4" width="590" height="385" auto_thumb="1"]
JULIAN SITKOVETSKY | SIBELIUS VIOLIN CONCERTO | 1ST MVT | ANOSSOV | RUMANIAN RADIO SYMPHONY
[video_lightbox_youtube video_id="mcmyuGV8Or8" width="590" height="385" auto_thumb="1"]
JULIAN SITKOVETSKY | SHOSTAKOVICH VIOLIN CONCERTO NO. 1 | GAUK | USSR STATE SYMPHONY | 1956
[video_lightbox_youtube video_id="G-om7CnqVU4" width="590" height="385" auto_thumb="1"]
JULIAN SITKOVETSKY & BELLA DAVIDOVICH | BAZZINI | LA RONDE DES LUTINS | 1956
[video_lightbox_youtube video_id="arPoFyvTEXw" width="590" height="385" auto_thumb="1"]
JULIAN SITKOVETSKY & BELLA DAVIDOVITCH | PAGANINI VARIATIONS ON 'LE STREGHE' (ARR. KREISLER) | 1956
[video_lightbox_youtube video_id="Xl4libqYQ3w" width="590" height="385" auto_thumb="1"]
JULIAN SITKOVETSKY | ERNST | ETUDE NO. 6 'THE LAST ROSE OF SUMMER' | 1956