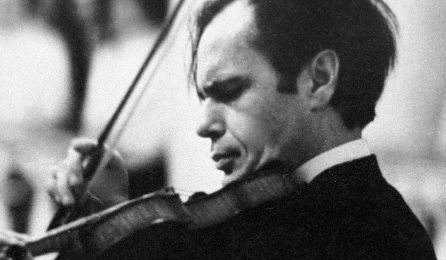 This week The Violin Channel explores the recordings of Soviet violinist Leonid Kogan.
A brilliant and compelling, yet shy artist, his profile has been sadly somewhat overshadowed in history by contemporary David Oistrakh – whose career was more significantly supported by the Soviet authorities.
[video_lightbox_youtube video_id="b0Wlx8OeFlo" width="590″ height="385″ auto_thumb="1″ ]
LEONID KOGAN | SHOSTAKOVICH VIOLIN CONCERTO NO. 1 | 4TH MVT | KONDRASHIN | USSR STATE SYMPHONY
Leonid Kogan died in 1982 from a sudden heart attack – aged just 58, but thankfully imparted an expansive and treasured recording legacy.
[video_lightbox_youtube video_id="nfiOBWwQD90″ width="590″ height="385″ auto_thumb="1″ ]
LEONID KOGAN & NAUM WALTER | PAGANINI CANTABILE
[video_lightbox_youtube video_id="kuegk60jP64″ width="590″ height="385″ auto_thumb="1″ ]
LEONID KOGAN & ARNOLD KAPLAN | WIENIAWSKI | POLONAISE IN A MAJOR | 1949
[video_lightbox_youtube video_id="4QG1IpAvOMA" width="590″ height="385″ auto_thumb="1″ ]
LEONID KOGAN | PAGANINI | VIOLIN CONCERTO NO. 1 | 1ST MVT | 'NIKKOLO PAGANINI' | 1981
[video_lightbox_youtube video_id="rM_2MufzWT8″ width="590″ height="385″ auto_thumb="1″ ]
LEONID KOGAN | BRAHMS VIOLIN CONCERTO | 1ST MVT | KONDRASHIN | PHILHARMONIA ORCHESTRA
 [video_lightbox_youtube video_id="1ES95rWWZMU" width="590″ height="385″ auto_thumb="1″ ]
LEONID KOGAN & ANDREI MYTNIK | PROKOFIEV VIOLIN SONATA NO. 1 in F MINOR | 4TH MVT | 1959
[video_lightbox_youtube video_id="1ZxOH2qDqlc" width="590″ height="385″ auto_thumb="1″ ]
LEONID KOGAN | TCHAIKOVSKY VIOLIN CONCERTO | SILVERSTRI | PARIS CONSERVATORY ORCHESTRA | 1959
[video_lightbox_youtube video_id="Q7-ZiMcLQU0″ width="590″ height="385″ auto_thumb="1″ ]
LEONID KOGAN | LALO | SYMPHONIE ESPAGNOLE | KONDRASHIN | PHILHARMONIA ORCHESTRA | 1959
[video_lightbox_youtube video_id="L4x8DTjFCc0″ width="590″ height="385″ auto_thumb="1″ ]
LEONID KOGAN | BEETHOVEN VIOLIN CONCERTO | 2ND MVT | FROMENT | NATIONAL ORCHESTRA OF THE ORTF | 1966
[video_lightbox_youtube video_id="gK37sothEdU" width="590″ height="385″ auto_thumb="1″ ]
LEONID KOGAN & NINA KOGAN| BEETHOVEN | VIOLIN SONATA NO. 9 IN A MAJOR, OP. 47 "KREUTZER"
[video_lightbox_youtube video_id="xG6mbgNKU40″ width="590″ height="385″ auto_thumb="1″ ]
LEONID KOGAN & NAUM WALTER | MANUEL DE FALLA | SUITE POPULAIRE ESPAGNOLE
[video_lightbox_youtube video_id="h6xglyQZGDU" width="590″ height="385″ auto_thumb="1″ ]
LEONID KOGAN & NAUM WALTER | BRAHMS (ARR. KREISLER) | HUNGARIAN DANCE NO. 17
[video_lightbox_youtube video_id="4UYxPae5O8o" width="590″ height="385″ auto_thumb="1″ ]
LEONID KOGAN & NAUM WALTER | GLUCK | MELODIE
Comments
comments