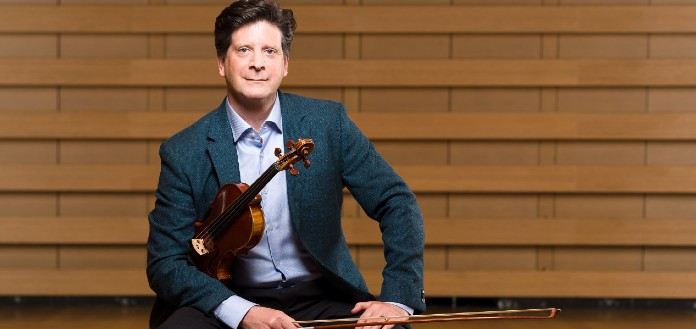 The Violin Channel recently talked with Barry Shiffman, Associate Dean & Director of Chamber Music of the Glenn Gould School of Music in Toronto, Canada.
Tell us about the Glenn Gould School of Music. When was it founded and what are the institution's main missions?
The Glenn Gould School (GGS) is one of the foremost music schools dedicated exclusively to performance training. With a maximum enrollment of 130 students, the school offers a nurturing environment and close mentoring from its acclaimed faculty.
Building on The Royal Conservatory's 130-year-old tradition of musical excellence, The Glenn Gould School was founded in 1997 to provide talented students of classical music with the skills and attributes necessary for professional success. It is also one of the few musical schools in North America that is integrated with a major performing arts centre, the acoustically superb Koerner Hall. This extraordinary facility gives students an edge when it comes to preparing for a professional career.
With only 130 students, how do you customize student-specific training?
The Glenn Gould School brings extraordinary resources to each student. Much of the work of any music performance student is anchored in the work with their studio teacher. GGS provides 90 minutes of weekly private instruction, which is needed to learn together.
Your post-graduate program focuses on preparing students to launch their music careers. Can you tell us more about its unique initiatives?
The Rebanks Family Fellowship welcomes a small cohort of exceptional young artists on the cusp of a major career. Fellows are provided with career development that includes performance opportunities, PR training, and access to professional quality audio and video recording personnel, all which give these emerging artists the tools they need to succeed.
An exciting component of this fellowship is a funded residency to pursue a creative project abroad. Many of the fellows have attended European festivals or training programs that have further developed their artistry and helped them build the important connections to an international network of opportunity. I was thrilled to see the Rolston Quartet chosen as VC artists, as it includes Luri Lee, an alumna of the Rebanks Program.
This unique program, which provides full funding tuition as well some support for living expenses, is the only one of its kind in Canada.
The music school is integrated into a major performing arts center. Can you tell us what benefits this brings to your students?
The Royal Conservatory is home to Koerner Hall, one of the world's great concert halls. With a calendar curated by Mervon Mehta, The Royal Conservatory's Executive Director, Performing Arts, the incredible number of inspiring concerts and projects happening in our building makes the school a wonderfully vibrant and exciting environment in which to learn. Students in our programs are also afforded numerous performance opportunities, many of which take place in Koerner Hall.
How has the school adapted to the current COVID-19 pandemic?
The Glenn Gould School has worked tirelessly to bring a range of safety measures into practice that helped us continue to be able to provide some in person activity and, importantly, continued access to practice rooms and chamber music rehearsals. The school has industry leading HVAC, has installed plexiglass barriers, implemented stringent cleaning protocols, and limited access to the building only to those people necessary. Temperature checks and health questionnaire upon entrance have been implemented, and we continue to respond to the requirements of the government health authorities.
Recognizing that many students and faculty cannot attend in person, GGS moved much of its curriculum online. Plus, with the recent audio-visual upgrades we have been able to continue masterclasses with some students in our building and others in remote locations.
Our fall opera stage production transitioned to an online project that saw the creations of scenes for broadcast that were shot scene by scene, incorporating the necessary plexiglass boxes used by the singers into the set and staging.
We'll be streaming an upcoming performance from the school on The Violin Channel. Tell us about this project and the program?
Our fall orchestra project proceeded with strict adherence to social distancing, masking and other safety measures, and was shared as a pre-recorded online concert as we were not permitted to have an audience at that particular time. As our conductor, Trevor Pinnock, could not travel to Toronto from the UK, we invited Toronto Symphony Concertmaster Jonathan Crow to lead the project. Featuring Mozart's Symphony No. 35 and the Beethoven Emperor Concerto, the concert was an overwhelmingly emotional experience for all involved, as music once again filled the hall.
If students want to apply to the 2021-2022 programs, how can they go about it?
Visit our website for full admissions information - www.rcmusic.com/ggs/admissions. The application deadline for Fall 2021 admission has been extended to December 11!