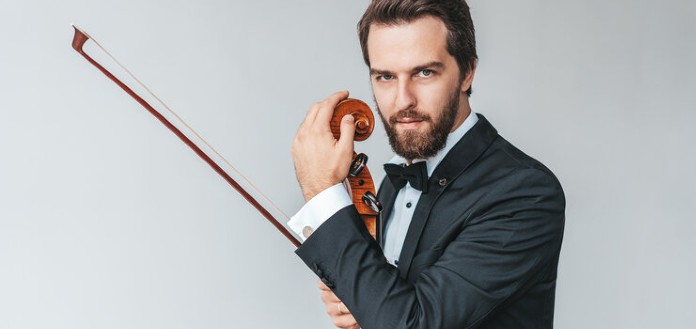 The Violin Channel recently caught up with Russian 'Superman' cellist Alexander Ramm in Moscow  - following his monumental feat of performing three cello concertos in one concert on just 48 hours notice.
On March 12th this year, the former Tchaikovsky International Cello Competition prize winner was called to replace cellist Alexander Knyazev last minute for a three concerto concert - with conductor Lio Kuokman and the Russian National Orchestra.
What was your first reaction when you were offered this unique opportunity to replace cellist Alexander Knyazev for this 3-concerto program?
"At first, I couldn't believe it ... 
Then I asked myself if I was actually ready for something like this ... 
The program had already been designed and announced. It featured Brahms Double Concerto, as well as the Saint-Saëns and Elgar Concertos.
I had never performed with the legendary Russian National Orchestra and Artistic Director Mikhail Pletnev and I had never played three concertos in a row.
I knew that with the 48-hour notice, there was no second soloist, who could be invited to share the program.
Finally, I thought of it as a great personal challenge, a cello marathon of sorts. And I realized that I wanted to do it!"
How did you go about mentally preparing during the two days prior to the performance?
"My approach is to practice without the instrument.
Before going to bed on the eve of the performance, I mentally go through the concerto or the entire program, "playing" it with the left hand on my right forearm as if it were a cello fingerboard.
I came up with the practice method after my epic fail at the international competition in Zagreb in 2012.
I was in the finals that took place over two days. The program was the Haydn concerto, to be performed without a conductor, and Prokofiev Sinfonia Concertante the day after.
I was sure that the Haydn would be super easy, so I put all my energy and effort into Prokofiev.
To my astonishment, in the middle of the second movement, my memory betrayed me. I got lost. And I stopped.
Somehow, we started the movement again.
A memory slip is a nightmare of every professional musician, but to actually stop in the middle of a piece in the final round of a competition… that takes it to a whole new level.
I learned my lesson well, and although I was awarded fourth place, I reconsidered and revised my approach to practice both with and without the cello.
Now, I'm happy to share this bitter experience with my students at master classes.
I strongly advise them to add this practice method to their toolset"
How did you go about physically preparing during the two days prior to the performance?
"I think that it is impossible to get physically ready for this in two days or even in a week.
I believe that for a few days before such a marathon, it makes the most sense to practice gently, deliberately saving the energy for the stage.
I knew that three concertos would be tough for the muscles.
Fortunately, it turned out that I was ready.
A year and a half ago, I started going to the gym two or three times a week.
My goal was to support myself physically as I recovered from the freak accident I had in February 2018, which left me with a broken arm.
I'm sure that these eighteen months of stamina training helped me a great deal"
How did you feel at the end of the concert? Was it a different feeling to how you feel following a regular performance?
"Well, I didn't feel like a squeezed lemon (laughing).
Of course, I was more tired than I would be after a normal performance.
And it wasn't just the performance, we had a dress rehearsal as well.
But I felt enormous support from the orchestra musicians, Maestro Lio Kuokman, and the audience at the Grand Hall of the Moscow Conservatory.
It was profound happiness!"
What was your favorite moment during this special experience?
"This performance reminded me of the Tchaikovsky Cello Competition finals in 2015: I was dying of anxiety before entering the stage, but after the first three minutes, I felt completely at home.
The love of the music I was playing drowned out the fear.
When you are lucky to have such a revelation onstage, it feels like some kind of a higher power is supporting and leading you along this path, and you just go along with it and do your best.
The other memorable moment was the amazing support of the orchestra musicians.
I felt it during the very first rehearsal and then throughout the entire performance.
These moments of pure joy and happiness are not something one can take for granted"
Would you do it again?
Honestly, I would never propose such a program to an orchestra.
I'm sure I could do it again, but I don't feel the need for such marathons.
Two concertos are more than enough both for the soloist and the audience.
But in the same situation – yes, I would be glad to help out my colleagues and friends!"
ALEXANDER RAMM | ELGAR CELLO CONCERTO IN E MINOR | LIO KUOKMAM & RUSSIAN NATIONAL ORCHESTRA | 2020