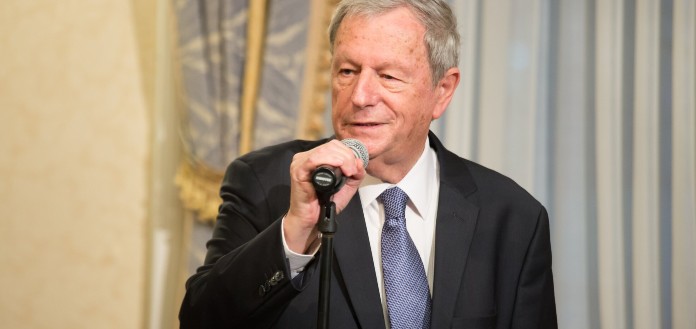 The Violin Channel recently sat down with Mr. Gilad Sheba, Keshet Eilon's General Manager.
We're coming to you from the Kibbutz Eilon in Western Galilee, Israel this summer for the three-weeks of intensive masterclasses and concerts — streamed LIVE here on The Violin Channel.
Tell us about the Keshet Eilon Music Centre and Summer Mastercourse. When was it founded, where is it held, and what is its core mission?
Keshet Eilon's first steps in 1990 were very modest: a handful of violinists from Israel and abroad met in Kibbutz Eilon, on Israel's northern border, to simply make music.
The Kibbutz, established in 1938, already had a rich cultural tradition, and its founders made music a central value in their lives. They passed on their passion to the second generation of the Kibbutz.
The first Mastercourse participants were welcomed warmly by the local community, who immediately embraced them and made them feel at home. It gave them a feeling of belonging to the Kibbutz and a way of getting to know Israel via the Kibbutz.
From the beginning, we were very fortunate. During the 1990s, there was a massive wave of new immigrants from the former Soviet Union arriving in Israel, among them were many musicians. They instilled a new kind of energy into the social and cultural life of Israel and played an essential role in Keshet Eilon's development and success.
Many of the young newcomers were gifted musicians, who began looking for a suitable framework in which to advance their music study or to polish their playing. They found it at Keshet Eilon.
This first Mastercourse laid the foundations of Keshet Eilon. We succeeded in retaining many of its distinctive features throughout the 30 years that followed.
Keshet Eilon's credo is that music, one of the eternal symbols of humanity, can serve as a bridge between religions, peoples, and nations.
The word "Keshet" in Hebrew means a bow or a rainbow and, we use it to symbolize a bridge or connection between people from different cultures, bringing them together to make music. This goal finds expression in our ongoing collaboration with music centers in a number of cities within the Arab community in Israel. There is evidence of this in the current summer course in which three young Arab musicians, graduates of conservatories in Israel, are participating.
How have you adapted to the COVD-19 situation this year? We see that the current course is a hybrid version. Tell us about this.
Throughout the years, Keshet Eilon has succeeded in carrying on all its programs despite security threats, and many other obstacles.
We have always been determined to maintain the sounds of Keshet Eilon; therefore we chose the online platform as an optional solution to overcome the pandemic's strict regulations.
As the summer of 2021 approached, when a record number of people In Israel had been fully vaccinated and a high level of immunity attained, we carefully studied all the current directives and regulations regarding the possibility of an in-person live Mastercourse, even in a limited format, as long as we were confident about the safety of any and all who entered the Keshet Eilon campus.
On the basis of all the information available, it became clear that a live Mastercourse could be held on August 1-11 only with the participation of teachers, students, and artists who were citizens of Israel and subject to Israeli government regulations.
However, we did not abandon the talented young musicians from around the world who would not be able to participate in a live course but offered them the opportunity of participating in a virtual Mastercourse (July 11- August 25).
Why was it so important for you and your colleagues to continue as you have, during both years of the pandemic?
As we all know, as from March 2020 the world of culture and music was badly affected by the pandemic. Renowned artists, senior instructors of music, and young musicians alike, all found themselves unemployed — and even more than that, deprived of the opportunity to perform to an audience and sustain the world of live music. It is this that inspires us all to keep doing what we love and what enriches our lives: making music.
In addition to the reasons above, our strong motivation to protect the future of Keshet Eilon, together with the support and encouragement of individuals and foundations who believe just as deeply in this need, lead us to the solution of a Virtual Mastercourse in 2020 and a Hybrid one in 2021.
How many students do you take each summer and what does a typical day for a student at Keshet Eilon look like?
Prior to the pandemic, we tried to keep the number of participants not more than 55 — this year 2021 we have 62. Of this number, 26 are participating in person.
We have maintained the regular summer Mastercourse schedule, trying to keep the format as close as possible to previous years. Namely:
Morning: individual lessons
Noon-time: Archery practice
Afternoon: Master classes
Evening: Concerts
Late evening: Social activities
You also have a very impressive faculty. Tell us about your faculty this year and the qualities you look for in teachers and mentors when inviting them to join your program.
Keshet Eilon is happy to be part of cultivating the coming generation of young string players, by exposing them to outstanding artist and teachers who are willing to offer their talent, their professional experience and their accumulated knowledge to the young musicians on the summer Mastercourses.
The teachers who come to Keshet Eilon identify with its basic goals and values such as the importance of breaking down barriers between young people of different ethnic backgrounds, (for example between Israeli Arabs and Jews, or among students representing diverse geographic and cultural origins); the aspiration to excellence; and the ability to listen to others. The summer Mastercourse offers the opportunity to simply create music, in the calm, rural peace of the northern periphery of Israel, far from the spotlight. All of this happens in a familial and convivial atmosphere, enjoyed by both students and faculty members, in spite of the fact that these musicians have chosen a profession that is by its very nature so competitive.
What are you especially looking forward to at this year's event?
Our purpose this summer is to preserve the tradition and the achievements of Keshet Eilon that we have established up to this point, and also to widen our spheres of contact, to preserve and foster connections between faculty and students. We believe that all such personal connections can serve as bridges on the way to establishing a professional music school at Keshet Eilon that will operate year-round.
You have a very unique archery program for your students, can you tell us about this? What can a student learn from this sport? And does it translate to their musicianship?
The archery workshop originated in the need to find some form of physical activity for students who spend so many hours of the day indoors practicing their music.
To our surprise, we discovered a correlation between the sport of Olympic archery and string playing. They require similar physical elements: correct stance, hand-eye coordination, concentration, and others. The amazing fact is that over many years it has been shown that string instrument players excel at archery and learn it with minimum training as compared to regular students of archery.
In previous years, a group of archers has voluntarily given archery lessons to participants of the summer Mastercourse. We can take pride in the fact that one of these volunteer archers is currently representing Israel at the Tokyo Olympics!
We have found that most of the string students and teachers enjoy the sport of archery and that it actually does strengthen and improve the skills that the two activities share.
When a student leaves Keshet Eilon after the three-week summer program, what do your hope that they take away with them?
A student leaves Keshet Eilon with new musical ideas, innovative in-puts, and positive experiences. They create new friendships and connections that can enrich their lives long after the Mastercourse, being expressed in their future musical lives. In addition, the opportunity to get to know Israel as a place of culture and creativity and not merely a country associated with violence and terrorism can turn a student into an ambassador of goodwill for Keshet Eilon and for Israel.
We see you are working long-term towards creating an international music academy, offering students a three-year program, right? Can you tell us about this large undertaking? When is the academy likely to open? What kind of students are you hoping will join you and what kind of unique experiences do you feel you can offer them over other conservatories or academies?
We see the establishment of a full-year boarding school at Keshet Eilon as a natural progression of the summer program and in full alignment with the Centre's mission. Keshet Eilon International School (KEIS) will be dedicated to promoting young international and Israeli instrumentalists ages 16 to 18, seeking a career as professional musicians, by providing them an international high school diploma, while focusing on their individual musical education.
The opening of the academy depends on the raising of the necessary funds. We need to construct 12 teaching rooms which are a crucial need for the academy.
To date, construction is complete on the high-quality concert hall, student dormitories, cafeteria, music library, and three units of staff accommodations. These are now available for our use.
We anticipate the enrolment of students at the highest musical level from all over the world and from all communities in Israel.
· Ages : 16 – 18 (10th – 12th grade)
· Each cohort will include up to 20 students in the proportion of 8 violinists, 4 violists, 4 cellists, and 4 pianists.
The idea of establishing the academy arose from the growing awareness that highly talented young musicians in Israel and abroad could not find suitable educational frameworks that could enable them to develop an international career. These students could find a solution at the KEIS, suitable for them and their talents.
The students will receive their musical instruction from fine teachers from Israel and from abroad. They will live in a boarding-school framework especially adapted for their needs, the language of instruction will be English, and the students will be integrated into suitable classes at a local high school for the arts. In addition to their music studies, they will receive a full academic curriculum and graduate with a matriculation certificate recognized by all international academic institutions. In addition, all the students' social needs will be addressed as needed.
The establishment of the high school will also bring benefits to the area of the northern periphery of Israel where we are situated, including a higher quality of culture and education in the area, financial, and other support for conservatories in the Galilee and collaboration with them — and continued growth of employment opportunities for residents of the area.
We are confident that by establishing a high-tier music school in the Western Galilee, we will not only benefit the young musicians who will attend the school, but also the surrounding community and the string music world as a whole.