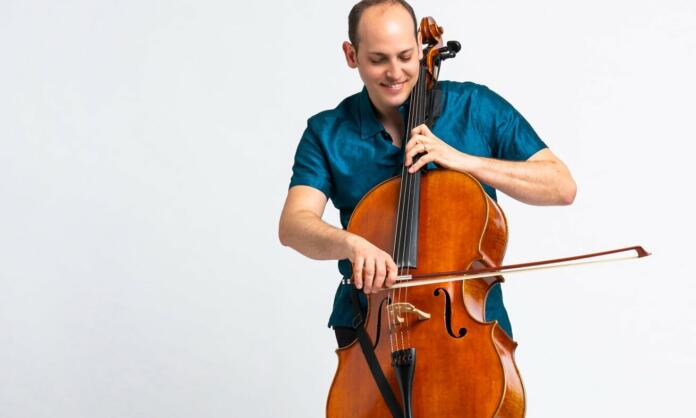 Hosted in partnership with the New England Conservatory and the Silkroad Ensemble, the Global Musician Workshop is currently presenting a week long event — including group sessions that teach tunes from around the world, unique topic-based elective classes, play-along jam sessions, panel discussions, and an online performance festival featuring faculty and participants alike.
The event welcomes musicians and educators ages 18+ from any musical background — university students, professional and amateur performers, teachers, and teaching artists — with backgrounds in Western classical, jazz, folk, or traditional styles.
Emphasizing new music, social initiatives, and educational partnerships, Silkroad is a globally-minded musical organization founded by cellist Yo-Yo Ma in 1998.
The Violin Channel had the chance to talk with multi-style cellist, composer, and educator Mike Block to learn more about the workshop.
Tell us about the Global Musician Workshop. When was it founded and what is its overarching mission?
Silkroad's Global Musician Workshop (GMW) is a performance-focused experience begun in 2015 and serving musicians of all backgrounds, styles, and instruments, where we are immersed in multiple musical languages through small ensemble collaborations led by a faculty of master musicians from around the world.
Our mission is to foster a community of global-minded musicians for the 21st century and to support the development of the artistic voice of each participant.
Can you describe the kind of activities, performances, and initiatives happening this week? 
The week-long program includes group classes that teach repertoire, techniques, and concepts from around the world, along with nightly jam sessions, panel discussions, and collaborative performances between faculty and participants.
You have been a member of the Silkroad Ensemble for a number of years now. Tell us about the very unique ensemble and how its values and goals align with those of the workshop?
Silkroad is all about having a dialogue between different cultures through artistic collaboration and the sharing of values. GMW creates the opportunity for our participants to do this while learning new musical languages, empowering them to be able to communicate artistically with even more people, whether it is other musicians or new audiences.
As you said, the workshop project was founded in 2015, but this year's edition is hosted 100% online due to the ongoing pandemic. Can you tell us how you've gone about making these substantial adjustments — and how you can still ensure you can maintain its core philosophies and learnings?
Although we're not able to replicate the performance focus and collaborative ensemble experiences during our online camp, we are still able to share lots of experiences and information over the series of Zoom workshops and classes, as well as make time for small group discussions and jam sessions, where people can share music casually with each other.
We're also going to be putting together one all-camp collaborative video with contributions from all of our participants and faculty!
One of your main specificities is the integration of different musical styles, instruments, and cultures into a single performance. How do you successfully achieve coherency? 
The most satisfying cross-cultural collaborations for me usually end up being less about what "styles" are being combined or which cultures are being officially represented, but more about sharing a unique conversation between individual artists that may be coming from different perspectives.  
The GMW will present an Online Performance Festival on August 13 and 14 streamed LIVE here on The Violin Channel. What can audiences expect?
The faculty has been hard at work all week filming 12 brand-new collaborative performance music videos that will be premiered across the two concerts on Aug 13 and 14. We'll also feature performance videos from some of our esteemed GMW fellows, as well as guest artist contributions from Angelique Kidjo, Jake Shimabukuro, Speech, Black Violin, and Silkroad's new Artist Director, Rhiannon Giddens.
What can someone watching the ensembles online for the first time take away from the experience and put into their consciousness for their own, possibly more traditional string programs or recitals?
We hope to inspire our audiences to find joy and meaning in the whole world of music, building on the idea that "the whole is greater than the sum of the parts."