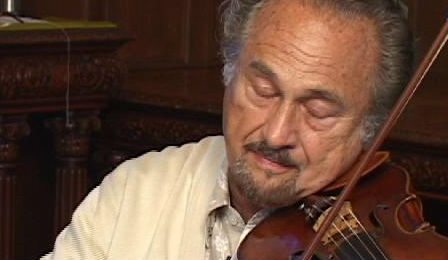 Respected violinist and pedagogue Mr Aaron Rosand discusses his essential advice for young musicians starting their professional careers.
[video_lightbox_youtube video_id="g5Q6SWhmsG8" width="590" height="385" auto_thumb="1" ]
AARON ROSAND | CURTIS INSTITUTE OF MUSIC | 'ESSENTIAL ADVICE WHEN STARTING A MUSIC CAREER'
 "Today I'd like to give advice to young players, beginning their careers, on what it takes not only as a musician, and violin player, but on other important aspects of making a career - because you are in a business.

The first most important point, is you must have extreme confidence in yourself and no matter what criticism or obstacles you may face, you must move forward and never look back – just completely believe in yourself and what you are doing.

The second important point is that you must be disciplined with your art so that you are prepared at any time to play something at the top of your form - there are no excuses not to be.

It's actually the thing that made my career, that I was ready to play 25 concertos at a moment's notice. You have to be on top of everything you are doing at all times.

The next important point is that you must learn how to promote yourself – which takes personality. It's not just the concert that you play but it's the way you conduct yourself afterwards whilst mingling with the people who've made that concert possible. It's about knowing how to present yourself so that people will want to have you back next year or the year after - it's the re-engagement that matters, not the one you've just played.

You must also keep in contact with the people who are responsible for the performances. I'm remembering so well my old friend, and great violinist Henryk Szeryng, who used to keep a book with all the promoters' and members of boards' names and details – to then record every little detail of what they'd talked about and follow everything with cards.

It's part of the game because it is a business – and you really have to appreciate and keep in contact with the people who make your business possible."
Mr Rosand has enjoyed a prolific recording and performance career spanning more than 7 decades | He has been described by The New York Times as 'one of the great living exponents of Romantic violin music' - with Gramophone Magazine suggesting he has made 'some of the greatest recordings of the (20th) Century' | Now 86 years old, Mr Rosand has served a distinguished teaching position at the Curtis Institute of Music since 1981 - his famed students including Alex Kerr, Benjamin Schmid and Stephanie Jeong and VC 'Young Artists' Ray Chen, Stephen Waarts, Richard Lin, Dami Kim and Zeyu Victor Li | www.rosandmemoirs.com