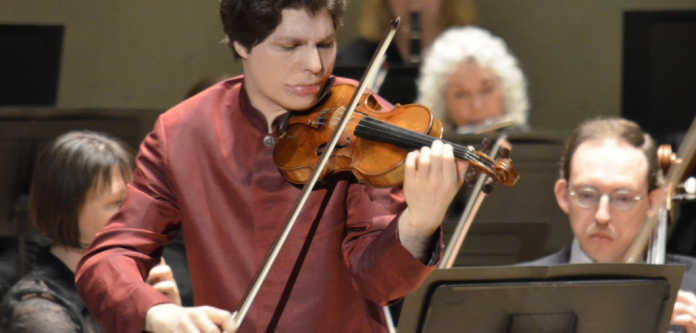 The Violin Channel recently caught up with VC 'Young Artist' Italian-German violin virtuoso Augustin Hadelich, who provided some great insights into sound production - and the importance of 'training your left hand to think like a singer'.
[video_lightbox_youtube video_id="TWBAZk8NMiU" width="590" height="385" auto_thumb="1"]
VC 'YOUNG ARTIST' AUGUSTIN HADELICH | 'TRAINING YOUR LEFT HAND TO THINK LIKE A SINGER'
I'd like to speak to you about sound - and sound production.

I believe in the violin repertoire there are three types of sounds: The first being the lyrical sound, much like the human singing voice, the second a speaking improvisational sound, and the third being sound effects – different colours and imitations of other instruments.

For this video, I would like to focus on the first kind – the singing sound - as I feel it is an aspect that perhaps is not spoken about as much.

When you think about how a singer vibrates, you'll instantly notice that the vibrato doesn't just switch on and off from note to note but rather it grows from nothing and blooms throughout the note changes and phrasing. I believe this is extremely important to do on the violin as well.

I find that what often happens on a violin is that each finger has its own way in which it wants to vibrate.

I typically find with violinists the 2nd and 3rd fingers want to vibrate with a wider and faster vibrato, where as the 1st and 4th fingers often produce a smaller vibrato – or sometimes little at all.

I believe it is extremely important for you to will your hand to do exactly what you want it to do in a phrase - and in such a way that it will sound more like a singer.

A good example is in the Bruch Violin Concerto opening where the 2nd finger falls on a lot of weak notes, but often I hear people vibrate the 2nd finger the most – where the vibrato should, in my opinion, be growing towards the suspensions.

Being aware of this, I feel it helps the phrasing hang together much better and allows us to produce a more singing-like quality.