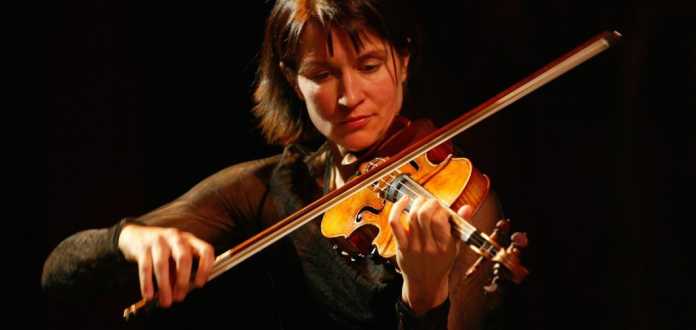 The Violin Channel recently caught up with Russian-born violin virtuoso Viktoria Mullova - at her home in West London.
Viktoria offered some excellent advice on the importance of 'surrendering yourself to concert nerves'.
[video_lightbox_youtube video_id="3xLShADpKTY" width="590" height="385" auto_thumb="1"]
VIKTORIA MULLOVA | 'SURRENDERING YOURSELF TO YOUR CONCERT NERVES'
I'd like to talk to you about how to deal with nerves.

It is something I have thought about throughout my entire life, as I'm always nervous when I'm playing.

People don't always think I am nervous, as I can hide it very well, but I am nervous every time I play a concert.

But recently I have come to the conclusion that nerves are a battle I simply cannot win - and that I have to accept that I will be nervous all of my life.

(I believe most people are nervous when they perform - I don't believe people actually who say they are not nervous when they play.)

And I've come to the realisation that it is good to know this, and to surrender and accept that you will be nervous – as it in itself actually helps one deal with the situation.

Another useful thing to know is to prepare very well and to practice a lot the piece you are going to playing.

Once it happened to me that I played Tchaikovsky's Violin Concerto and I didn't' prepare very well – as I believed I knew it so well, so I didn't prepare it or practice enough, and on stage I started to panic and I made a mistake.

Preparation is very important.