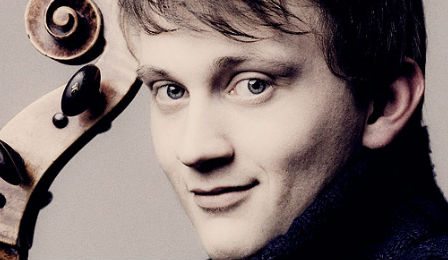 25 year old old German cellist Benedict Kloeckner is quickly building an international reputation as one of the new generation's most gifted young string virtuosi.
A student of Frans Helmerson and Gary Hoffman at the Kronberg Academy, Benedict is a former prize winner at the Emanuel Feuermann and Animato International Cello Competitions – and was recently awarded the coveted 'Nicolas Firmenich' Prize at the Verbier Festival.
[video_lightbox_youtube video_id="Omi5v4rDsBA" width="590″ height="385″ auto_thumb="1″ ]
BENEDICT KLOECKNER | SCHUMANN CELLO CONCERTO | 1ST MVT | KAMMERORCHESTER BERLIN | 2011
His recent solo engagements include concerto performances with the German Radio Orchestra, NDR Radio Symphony Orchestra, Berlin Chamber Orchestra, Slovakian Radio Orchestra, MDR Radio Symphony Orchestra and the German State Orchestra.
His recent chamber music collaborators include Anne-Sophie Mutter, Gidon Kremer, Yuri Bashmet, Antoine Tamestit, Paul Meyer and András Schiff – and he will next season make prestigious recital debuts at the Het Concertgebouw Amsterdam, Barbican Centre in London and New York's Carnegie Hall.
Benedict currently performs on a 1680 Rugeri Cello – on generous loan from Stiftung Musikleben.
[video_lightbox_youtube video_id="kTQXcZpg9f0″ width="590″ height="385″ auto_thumb="1″ ]
BENEDICT KLOECKNER | DVORAK CELLO CONCERTO | GUPTA | CAMERATA OSLO | 2014
[video_lightbox_youtube video_id="O7hgkjtfG0M" width="590″ height="385″ auto_thumb="1″ ]
BENEDICT KLOECKNER | TCHAIKOVSKY | ROCOCO VARIATIONS | 2015
[video_lightbox_youtube video_id="HB0-x5jQLEU" width="590″ height="385″ auto_thumb="1″]
BENEDICT KLOCKNER & JOSE GALLARDO | RACHMANINOFF CELLO SONATA | 1ST MVT | 2015
[video_lightbox_youtube video_id="739SSBZfGck" width="590″ height="385″ auto_thumb="1″ ]
BENEDICT KLOECKNER | POPPER | UNGARISCHE RAPSODIE | FESTSPIELE MECKLENBURG VORPOMMERN
[video_lightbox_youtube video_id="483gWXbupGc" width="590″ height="385″ auto_thumb="1″ ]
BENEDICT KLOECKNER | ELGAR | CELLO CONCERTO IN E MINOR | KRONBERG CELLO FESTIVAL | 2013
[video_lightbox_youtube video_id="pUs9HQ3ef7M" width="590″ height="385″ auto_thumb="1″ ]
BENEDICT KLOECKNER | BACH | CELLO SUITE NO. 6 IN D MAJOR | PRELUDE
[video_lightbox_youtube video_id="hSowGLF9r1w" width="590″ height="385″ auto_thumb="1″ ]
BENEDICT KLOECKNER | SCHUMANN CELLO CONCERTO | 1ST MVT | KAMMERORCHESTER BERLIN | 2011
[video_lightbox_youtube video_id="SkTLvSJ_2yE" width="590″ height="385″ auto_thumb="1″ ]
BENEDICT KLOECKNER | SONG OF THE BIRDS (ARR. PABLO CASALS) | 2011
[video_lightbox_youtube video_id="6vQfqD07T7Y" width="590″ height="385″ auto_thumb="1″ ]
BENEDICT KLOECKNER | TCHAIKOVSKY | PEZZO CAPRICCIOSO | FESTSPIELE MECKLENBURG VORPOMMERN
[video_lightbox_youtube video_id="T7BDLVjPU94″ width="590″ height="385″ auto_thumb="1″ ]
BENEDICT KLOECKNER & JOSE GALLARDO | SARASATE | ZIGEUNERWEISEN (ARR. CELLO)
Comments
comments