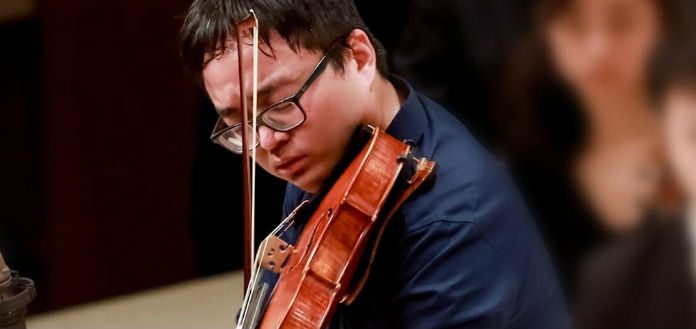 24-year-old Chinese violist Diyang Mei is firmly establishing himself as a rising young concert artist of outstanding potential.
A student of Hariolf Schlichtig at the Munich University of Music, Diyang is a former 1st prize winner of the Markneukirchen, Max Rostal and Brahms International Viola Competitions – and in September of last year was awarded a coveted 1st prize at the 2018 ARD International Viola Competition – in Munich, Germany. 
His recent debuts include solo engagements with the Bavarian Radio Symphony, Konzerthausorchester Berlin, Philharmonic Orchestra Bad Reichenhall, Poznań Philharmonic Orchestra, Chursächsiche Philharmonie Bad Elster and Busan Philharmonic Youth Orchestra.
Diyang currnetly performs on a Wolfgang Scharff viola – on generous loan from Ms Ingeborg Fahrenkamp-Schäffler.
DIYANG MEI | BARTOK VIOLA CONCERTO |  JOSEPH BASTIAN & BAVARIAN RADIO SYMPHONY | 2018 ARD INTERNATIONAL VIOLA COMPETITION | 1ST PRIZE
VC YOUNG ARTIST DIYANG MEI | STAMITZ VIOLA CONCERTO | 2ND MVT | MUNICH CHAMBER ORCHESTRA | 2018 ARD INTERNATIONAL VIOLA COMPETITION | 1ST PRIZE
VC YOUNG ARTIST DIYANG MEI | STAMITZ VIOLA CONCERTO | 3RD MVT | MUNICH CHAMBER ORCHESTRA | 2018 ARD INTERNATIONAL VIOLA COMPETITION | 1ST PRIZE
VC YOUNG ARTIST DIYANG MEI & YUMI SEKIYA | HINDEMITH VIOLA SONATA (1939) | 1ST MVT | 2018 ARD INTERNATIONAL VIOLA COMPETITION | 1ST PRIZE
VC YOUNG ARTIST DIYANG MEI & YUMI SEKIYA | HINDEMITH VIOLA SONATA (1939) | 2ND MVT | 2018 ARD INTERNATIONAL VIOLA COMPETITION | 1ST PRIZE
VC YOUNG ARTIST DIYANG MEI & YUMI SEKIYA | HINDEMITH VIOLA SONATA (1939) | 3RD MVT | 2018 ARD INTERNATIONAL VIOLA COMPETITION | 1ST PRIZE
VC YOUNG ARTIST DIYANG MEI | LIGETI | SONATA FOR SOLO VIOLA | 2ND MVT | 2018 ARD INTERNATIONAL VIOLA COMPETITION | 1ST PRIZE
VC YOUNG ARTIST DIYANG MEI & YUMI SEKIYA | BRAHMS | VIOLA SONATA IN F MINOR | 1ST MVT | 2018 ARD INTERNATIONAL VIOLA COMPETITION | 1ST PRIZE
VC YOUNG ARTIST DIYANG MEI & YUMI SEKIYA | BRAHMS | VIOLA SONATA IN F MINOR | 2ND MVT | 2018 ARD INTERNATIONAL VIOLA COMPETITION | 1ST PRIZE
Name: Diyang Mei
Viola: Wolfgang Scharff – On general loan Ms Ingeborg Fahrenkamp-Schäffler
Teachers: Hariolf Schlichtig
Comments
comments