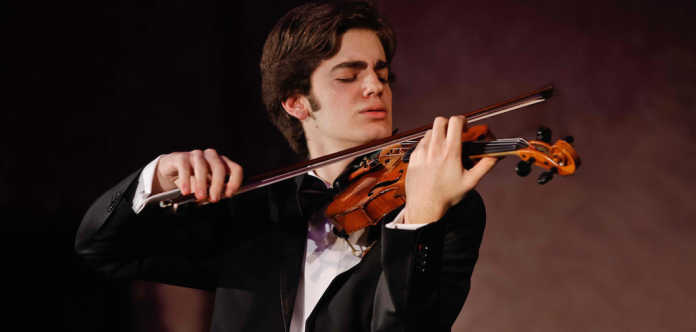 20 year old Armenian-Austrian violinist Emmanuel Tjeknavorian is quickly building an impressive reputation as a rising young virtuoso of enormous potential.
A student of Professor Gerhard Schulz at the Vienna University of Music and Performing Arts, Emmanuel is a major prize winner at the Brahms, Goldberg, Kreisler and Sibelius International Violin Competitions.
EMMANUEL TJEKNAVORIAN | SIBELIUS | VIOLIN CONCERTO | 2015 JEAN SIBELIUS INTERNATIONAL VIOLIN COMPETITION
His recent debuts include engagements with the Polish Radio Chamber Orchestra, Liechtenstein Symphony Orchestra and the Boston Pops Orchestra – and a prestigious solo recital at Vienna's Musikverein Golden Hall.
He currently performs on a fine 1698 Stradivari on loan from a generous patron of the Beare's International Violin Society. 
https://www.youtube.com/watch?v=CMsg3AAei3s&showinfo=0&autohide=1
EMMANUEL TJEKNAVORIAN | BRAHMS | VIOLIN CONCERTO | 1ST MVT | 2015 JEAN SIBELIUS INTERNATIONAL VIOLIN COMPETITION
https://www.youtube.com/watch?v=uZc6o2k2mPc&showinfo=0&autohide=1
EMMANUEL TJEKNAVORIAN | BRAHMS | VIOLIN CONCERTO | 2ND MVT | 2015 JEAN SIBELIUS INTERNATIONAL VIOLIN COMPETITION
https://www.youtube.com/watch?v=nmrxK9yIAbw&showinfo=0&autohide=1
EMMANUEL TJEKNAVORIAN | BRAHMS | VIOLIN CONCERTO | 3RD MVT | 2015 JEAN SIBELIUS INTERNATIONAL VIOLIN COMPETITION
https://www.youtube.com/watch?v=COmbVVMXZDM&showinfo=0&autohide=1
EMMANUEL TJEKNAVORIAN & NAOKO ICHIHASHI | MOZART | RONDO IN C MAJOR |  2015 JEAN SIBELIUS INTERNATIONAL VIOLIN COMPETITION
https://www.youtube.com/watch?v=UKwDTM6Lo_o&showinfo=0&autohide=1
EMMANUEL TJEKNAVORIAN & NAOKO ICHIHASHI | SIBELIUS | NOVELLETTE | 2015 JEAN SIBELIUS INTERNATIONAL VIOLIN COMPETITION
https://www.youtube.com/watch?v=s1hfORGboRk&showinfo=0&autohide=1
EMMANUEL TJEKNAVORIAN | BACH | SONATA IN A MINOR | ANDANTE & ALLEGRO | 2015 JEAN SIBELIUS INTERNATIONAL VIOLIN COMPETITION
https://www.youtube.com/watch?v=K2sUh6A35nA&showinfo=0&autohide=1
EMMANUEL TJEKNAVORIAN | JUNGHOON NAM | TASTE FOR THE ARTS | 2015 JEAN SIBELIUS INTERNATIONAL VIOLIN COMPETITION
https://www.youtube.com/watch?v=j5_ThvyWNLg&showinfo=0&autohide=1
EMMANUEL TJEKNAVORIAN & NAOKO ICHIHASHI | DEBUSSY | VIOLIN SONATA | 2015 JEAN SIBELIUS INTERNATIONAL VIOLIN COMPETITION
https://www.youtube.com/watch?v=j5_ThvyWNLg&showinfo=0&autohide=1
EMMANUEL TJEKNAVORIAN & NAOKO ICHIHASHI | DEBUSSY | VIOLIN SONATA | 2015 JEAN SIBELIUS INTERNATIONAL VIOLIN COMPETITION
https://www.youtube.com/watch?v=y5odx313swE&showinfo=0&autohide=1
EMMANUEL TJEKNAVORIAN & NAOKO ICHIHASHI | SIBELIUS | HUMORESQUES NO. 2 & 5 | 2015 JEAN SIBELIUS INTERNATIONAL VIOLIN COMPETITION
https://www.youtube.com/watch?v=gufQTR9wMX8&showinfo=0&autohide=1
EMMANUEL TJEKNAVORIAN & NAOKO ICHIHASHI | WAXMAN | CARMEN FANTASY | 2015 JEAN SIBELIUS INTERNATIONAL VIOLIN COMPETITION
https://www.youtube.com/watch?v=iN9X6PiFLc0&showinfo=0&autohide=1
EMMANUEL TJEKNAVORIAN | SARASATE | ZIGEUNERWEISEN | SINFONIEORCHESTER LIECHTENSTEIN | 2013
Name: Emmanuel Tjeknavorian
Violin: 1698 Stradivari

Bow: Peccatte bow



Strings: Thomastik-Infeld

Accessories: Kun Bravo Shoulder Rest, Kreddle Chin Rest, Thomastik-Infeld Vision Rosin

Teacher: Gerhard Schulz