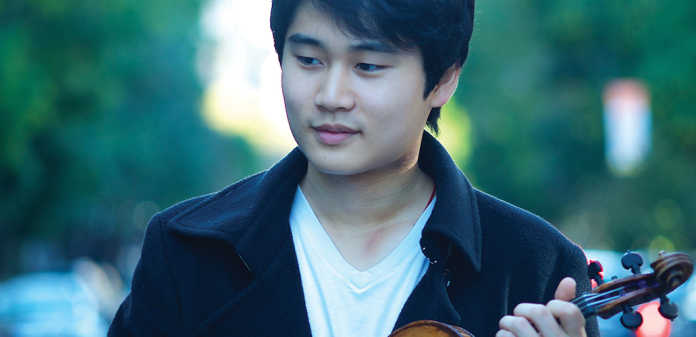 21 year old Korean violin virtuoso In Mo Yang is quickly building an international reputation as one of the new generation's most outstanding young string virtuosi – praised for his prodigious technical command and tonal refinement.
A full scholarship student of respected pedagogue Miriam Fried at the New England Conservatory, In Mo is a former major prize winner at the Munetsugu Angel, Joseph Joachim, Tchaikovsky, Menuhin and Kloster Schontal International Violin Competitions – and was recently awarded a highly acclaimed 1st prize at the 2015 'Premio Paganini' International Violin Competition.
His recent debuts include solo engagements with the Danish National Symphony, NDR Radiophilharmonie, Russian Symphony Orchestra, Brazilian Symphony Orchestra, Austin Symphony Orchestra, KBS Symphony Orchestra and the Korean Symphony Orchestra.
In Mo current performs on a 1705/1718 Antonio Stradivarius violin – on generous loan from an anonymous donor.
IN MO YANG | PAGANINI | VIOLIN CONCERTO NO. 1 | FABIO LUISI & DR SYMFONIORKESTRET | 2016  
IN MO YANG | MILSTEIN | PAGANINIANA | LISKER MUSIC FOUNDATION | 2015
IN MO YANG | KREISLER | RECITATIVO & SCHERZO | 2016 
IN MO YANG | YSAYE | SONATA NO. 3 'BALLADE' | LISKER MUSIC FOUNDATION | 2015
IN MO YANG, MIRIAM FRIED, SHIRA MAJONI, OLIVER ALDORT | BEETHOVEN | STRING QUARTET IN C SHARP MINOR, OP. 131 | 2015
IN MO YANG | YSAYE | CAPRICE D'APRES L'ETUDE EN FORME DE VALSE DE SAINT-SAENS | MENUHIN COMPETITION | 2014
IN MO YANG | PROKOFIEV VIOLIN CONCERTO NO. 1 | 1ST MVT | MENUHIN COMPETITION | 2014
IN MO YANG | PROKOFIEV VIOLIN CONCERTO NO. 1 | 2ND & 3RD MVTS | MENUHIN COMPETITION | 2014
IN MO YANG | BACH | SOLO SONATA IN C MAJOR | LARGO & ALLEGRO ASSAI | MENUHIN COMPETITION | 2014
IN MO YANG | KREISLER | CAPRICE VIENNOIS | MENUHIN COMPETITION | 2014
Name: In Mo Yang
Violin: Composite 1705/1718 Stradivarius 
Bow: 2015 Benoit Rolland 
Teacher : Miriam Fried
Comments
comments