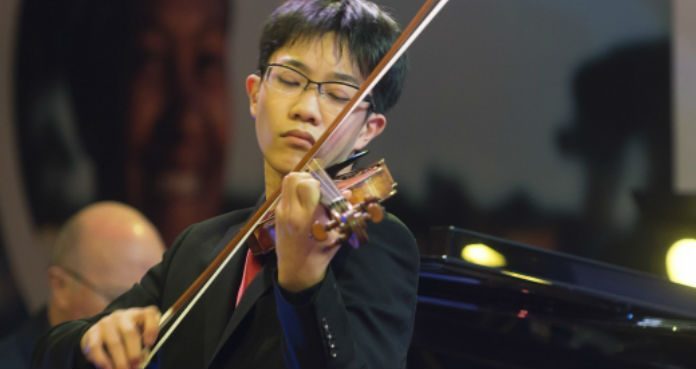 17 year old Japanese violinist Rennosuke Fukuda is quickly building an international reputation as a young virtuoso of outstanding potential – praised for his virtuosity, maturity and showmanship.
A student of Pavel Vernikov and Svetlana Makarova in Sion, Switzerland, Rennosuke is a former 1st prize winner at the Menuhin and Kloster Schöntal International Violin Competitions – and was recently awarded 1st prize at the 2017 Valsesia Musica International Violin Competition, in Italy.
His recent debuts include solo engagements with the Cleveland Orchestra, London Philharmonic, Moscow Philharmonic, Romanian Radio National Orchestra, North Czech Philharmonic, Osaka Philharmonic, Hiroshima Symphony, Kansai Philharmonic – and the Okayama Philharmonic Orchestra.
VC YOUNG ARTIST RENNOSUKE FUKUDA | WAXMAN | CARMEN FANTASY | 2017 JASCHA HEIFETZ INTERNATIONAL VIOLIN COMPETITION
VC YOUNG ARTIST RENNOSUKE FUKUDA | MANUEL PONCE (ARR. HEIFETZ) | ESTRELLITA | 2017 JASCHA HEIFETZ INTERNATIONAL VIOLIN COMPETITION
VC YOUNG ARTIST RENNOSUKE FUKUDA | SAINT-SAENS | INTRODUCTION ET RONDO CAPRICCIOSO 
VC YOUNG ARTIST RENNOSUKE FUKUDA | SARASATE | ZIGEUNERWEISEN | 2015 FESTIVAL NEXT GENERATION
Name: Rennosuke Fukuda
Violin: Nicolaus Gagliano Filius Alexandria fecit Neap. 1773
Bow: Schaeffer
Teacher: Professor Pavel Vernikov
Comments
comments