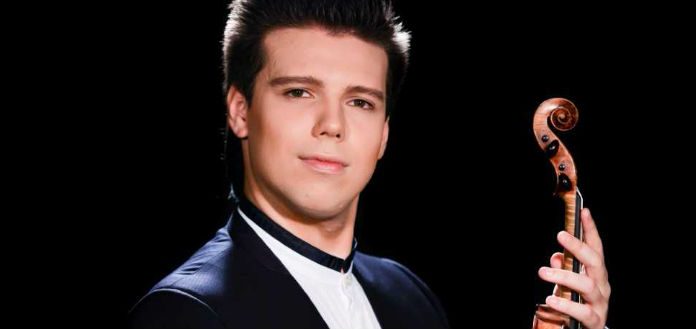 Russian violin virtuoso Sergei Dogadin has established himself as one of the foremost young concert soloists to emerge internationally in recent years.
A student of Boris Kuschnir at the City of Vienna University of Music and Arts, Sergei is a former major prizewinner at the Shanghai, Joseph Joachim, Tchaikovsky, ARD, Paganini and Postacchini International Violin Competitions.
Sergei is a grant holder from the Russian Ministry of Culture, prizewinner from the Mozart Society in Dortmund – and former recipient of the prestigious Prize of the President of Russia.
His most recent solo engagements include performances with Manfred Honeck and the Shanghai Symphony, Thomas Sanderling and the Novosibirsk Philharmonic, Yaron Gottfried and the Shenzhen Symphony, Yuri Temirkanov and the St Petersburg Philharmonic, Andrew Manze and the NDR Radiophilharmonie – and Anu Tali with the Sarasota Symphony and the Nordic Symphony.
In addition, since 2017, he has served a guest professorship at the Liangzhu International Arts Academy in China.
Sergei currently performs on a 1765 Giovanni Battista Guadagnini violin – on generous loan from the "Fritz Behrens Stiftung" in Hannover.
He recently released a CD with pianist Nikolai Tokarev, on the Naxos label, featuring Shostakovich's Violin Sonata and arrangements of the 24 Preludes.
VC YOUNG ARTIST SERGEI DOGADIN | BRAHMS VIOLIN CONCERTO | YURI TEMIRKANOV & ST PETERSBURG PHILHARMONIC ORCHESTRA | 2017
VC YOUNG ARTIST SERGEI DOGADIN | SHOSTAKOVICH VIOLIN CONCERTO NO. 1 | YURI TEMIRKANOV & ST PETERSBURG PHILHARMONIC ORCHESTRA | 2016
VC YOUNG ARTIST SERGEI DOGADIN & BORIS KUSCHNIR | VIVALDI | DOUBLE VIOLIN CONCERTO IN A MINOR | ST PETERSBURG STATE CAPELLA SYMPHONY ORCHESTRA | 2016
VC YOUNG ARTIST SERGEI DOGADIN & BORIS KUSCHNIR | BACH | DOUBLE VIOLIN CONCERTO IN D MINOR | ST PETERSBURG STATE CAPELLA SYMPHONY ORCHESTRA | 2016
VC YOUNG ARTIST SERGEI DOGADIN | MOZART VIOLIN CONCERTO NO. 3 | MUNICH CHAMBER ORCHESTRA | 2015 JOSEPH JOACHIM INTERNATIONAL VIOLIN COMPETITION HANNOVER | 1ST PRIZE
VC YOUNG ARTIST SERGEI DOGADIN & GLEB KOROLEV | ROSENBLATT | CARMEN FANTASY | 2015 JOSEPH JOACHIM INTERNATIONAL VIOLIN COMPETITION HANNOVER | 1ST PRIZE
VC YOUNG ARTIST SERGEI DOGADIN & GLEB KOROLEV | STRAVINSKY | DIVERTIMENTO | 2015 JOSEPH JOACHIM INTERNATIONAL VIOLIN COMPETITION HANNOVER | 1ST PRIZE
Name: Sergei Dogadin
Violin: 1765 Giovanni Batista Guadagnini violin – on generous loan from the Fritz Behrens Stiftung
Bow: L. Piernot
Accessories: Laubach Rosin | Trinity violin set case | Gewa Idea violin case
Teachers: Boris Kuschnir
Comments
comments