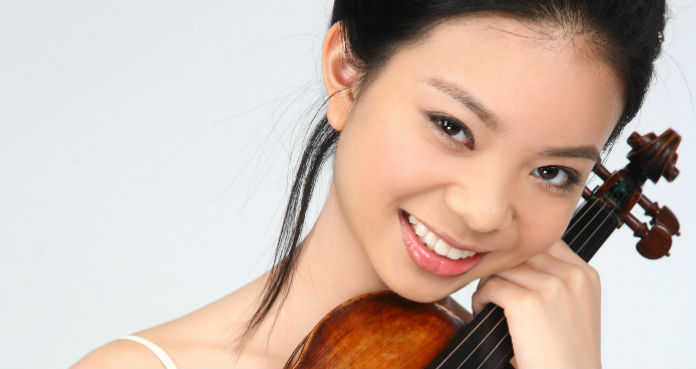 22 year old American violinist Sirena Huang is rapidly building an international reputation as a young string virtuoso of outstanding potential - praised for her 'impeccable technique, deeply expressive phrasing and poetic weight'.
A recent graduate of the Juilliard School, where she studied with Itzhak Perlman and Sylvia Rosenberg, Sirena is a major prize winner at the Singapore and Shanghai Isaac Stern International Violin Competitions and the Tchaikovsky Competition for Young Musicians.
To date she has been featured as a soloist with over forty orchestra - including the New York Philharmonic, Shanghai Symphony Orchestra, Singapore Symphony Orchestra, Cleveland Orchestra, Baltimore Symphony Orchestra, Staatskapelle Weimar in Germany and Russian Symphony Orchestra.
https://www.youtube.com/watch?v=U-n8ouGl2R4&showinfo=0&autohide=1
SIRENA HUANG | BARTOK | VIOLIN CONCERTO NO. 2 | 2016 SHANGHAI ISAAC STERN INTERNATIONAL VIOLIN COMPETITION
SIRENA HUANG | BEETHOVEN | VIOLIN SONATA NO. 7 IN C MINOR | 2016 SHANGHAI ISAAC STERN INTERNATIONAL VIOLIN COMPETITION
https://www.youtube.com/watch?v=Xb3AjlDczHU&showinfo=0&autohide=1
SIRENA HUANG | MOZART | VIOLIN CONCERTO NO. 3 | 1ST MVT | 2015 SINGAPORE INTERNATIONAL VIOLIN COMPETITION
https://www.youtube.com/watch?v=ISZXf5JPZpU&showinfo=0&autohide=1
SIRENA HUANG | PAGANINI | CAPRICE NO. 1 | 2015 SINGAPORE INTERNATIONAL VIOLIN COMPETITION
https://www.youtube.com/watch?v=LesFVUE_Mxc&showinfo=0&autohide=1
SIRENA HUANG | PAGANINI | CAPRICE NO. 21 | 2015 SINGAPORE INTERNATIONAL VIOLIN COMPETITION
https://www.youtube.com/watch?v=9uS5n83EKmc&showinfo=0&autohide=1
SIRENA HUANG | YSAYE | SOLO SONATA NO. 5 | 2015 SINGAPORE INTERNATIONAL VIOLIN COMPETITION
Name: Sirena Huang
Violin: Jean-Baptiste Vuillaume 
Bow: Howard Green
Teachers: Hyo Kang, Itzhak Perlman, Sylvia Rosenberg, Stephen Clapp, Linda Fiore