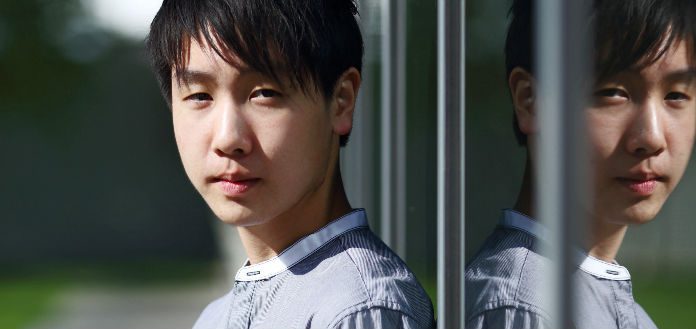 23-year-old American violinist Stephen Kim is quickly building an international reputation as a rising young virtuoso of outstanding potential.
A graduate of the Curtis Institute where he studied with Shmuel Ashkenasi, Aaron Rosand and the late Joseph Silverstein, and current student of Hyo Kang at The Juilliard School, Stephen is a former major prize winner at the Seoul, Sendai and Menuhin International Violin Competitions – and in April of this year was awarded 3rd prize at the Paganini International Violin Competition, in Genoa, Italy.
His recent debuts include solo performances with the Curtis Chamber Orchestra, Austin Symphony Orchestra, Suwon Philharmonic Orchestra, Sendai Philharmonic Orchestra and the l'Orchestra del Teatro Carlo Felice.
Stephen currently performs on the 1725 ex-Moller Guarneri del Gesù violin – on generous loan from the Samsung Foundation of Culture and the Stradivari Society of Chicago.
VC YOUNG ARTIST STEPHEN KIM & CHIH-YI CHEN | CHAUSSON | POÈME | 2018 INDIANAPOLIS INTERNATIONAL VIOLIN COMPETITION
VC YOUNG ARTIST STEPHEN KIM | PAGANINI CAPRICE NO. 11 | 2018 INDIANAPOLIS INTERNATIONAL VIOLIN COMPETITION
VC YOUNG ARTIST STEPHEN KIM & CHIH-YI CHEN | MOZART | SONATA NO. 18 IN G MAJOR | 2ND MVT | 2018 INDIANAPOLIS INTERNATIONAL VIOLIN COMPETITION
VC YOUNG ARTIST STEPHEN KIM & CHIH-YI CHEN | CHOPIN | NOCTURNE OP. 27 NO. 2 (ARR. WILHELMJ) | 2018 INDIANAPOLIS INTERNATIONAL VIOLIN COMPETITION
VC YOUNG ARTIST STEPHEN KIM | WILLIAM BOLCOM | 'IMPROVISATION' FROM SOLO SUITE NO. 3 | 2018 INDIANAPOLIS INTERNATIONAL VIOLIN COMPETITION
VC YOUNG ARTIST STEPHEN KIM & MIRÓ QUARTET | HAYDN | STRING QUARTET OP. 33 #2 "THE JOKE" | 1ST MVT | 2014 MENUHIN COMPETITION
VC YOUNG ARTIST STEPHEN KIM & MIRÓ QUARTET | HAYDN | STRING QUARTET OP. 33 #2 "THE JOKE" | 2ND MVT | 2014 MENUHIN COMPETITION
VC YOUNG ARTIST STEPHEN KIM & ANNE EPPERSON | KREISLER | CAPRICE VIENNOIS | 2014 MENUHIN COMPETITION
VC YOUNG ARTIST STEPHEN KIM & COLETTE VALENTINE | SAINT SAËNS | INTRODUCTION & RONDO CAPRICCIOSO | 2014 MENUHIN COMPETITION
Name: Stephen Kim
Violin: 1725 'ex-Moller' Guarneri del Gesù violin – on generous loan from the Samsung Foundation of Culture and the Stradivari Society of Chicago
Bow: W.E. Hill & Sons bow
Strings: Pirastro Evah Pirazzi Strings
Teacher: Shmuel Ashkenasi | Aaron Rosand | Joseph Silverstein | Hyo Kang
School: Curtis Institute of Music | The Juilliard School
PHOTO CREDIT: CHRIS WU
Comments
comments