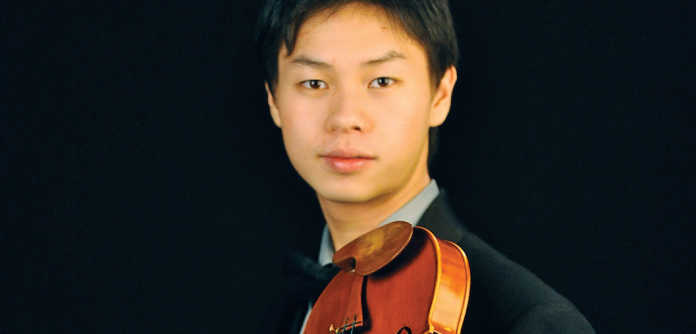 21 year old Canadian violinist Timothy Chooi is firmly establishing a reputation as an emerging young virtuoso of exceptional promise – praised for his maturity, presence and technical prowess.
A student of Ida Kavafian, at the Curtis Institute of Music, Timothy is a former prize winner at the Menuhin and Michael Hill International Violin Competitions – and recently made his Carnegie Hall solo debut as the recipient of the American Fine Arts Festival 'Vadim Repin Masterclass Scholarship'.
[video_lightbox_youtube video_id="7kpeV9vqfiQ" width="590″ height="385″ auto_thumb="1″]
TIMOTHY CHOOI | SIBELIUS VIOLIN CONCERTO | MICHAEL HILL INTERNATIONAL VIOLIN COMPETITION | 2015
Already he has performed with a number of major orchestras across the world – including the Montreal Symphony, Vancouver Symphony, National Arts Centre Orchestra, Toronto Philharmonia, Auckland Philarmonia and the Malaysian Philharmonic.
The younger brother of VC 'Artist' Nikki Chooi, Timothy currently performs on a 1729 Guarneri del Gesu – on generous loan from the Canada Council Musical Instrument Bank.
[video_lightbox_youtube video_id="9FPLFCx0W7U" width="590″ height="385″ auto_thumb="1″]
TIMOTHY CHOOI | SAINT-SAENS | HARVANAISE | MICHAEL HILL INTERNATIONAL VIOLIN COMPETITION | 2015
[video_lightbox_youtube video_id="LsxZxm8J5GQ" width="590″ height="385″ auto_thumb="1″]
TIMOTHY CHOOI | TCHAIKOVSKY | SWAN LAKE: DANSE RUSSE | MICHAEL HILL INTERNATIONAL VIOLIN COMPETITION | 2015
[video_lightbox_youtube video_id="MfRLE67OyLg" width="590″ height="385″ auto_thumb="1″]
TIMOTHY CHOOI | FAURE | BERCEUSE | MICHAEL HILL INTERNATIONAL VIOLIN COMPETITION | 2015
[video_lightbox_youtube video_id="kAMOICJFBSw" width="590″ height="385″ auto_thumb="1″]
TIMOTHY CHOOI | PROKOFIEV | VIOLIN SONATA NO. 2 | 1ST & 2ND MVTS | MICHAEL HILL INTERNATIONAL VIOLIN COMPETITION | 2015
[video_lightbox_youtube video_id="z5ORouH8NFo" width="590″ height="385″ auto_thumb="1″]
TIMOTHY CHOOI | BACH | SONATA NO. 2 IN A MINOR | GRAVE & FUGE | MICHAEL HILL INTERNATIONAL VIOLIN COMPETITION | 2015
[video_lightbox_youtube video_id="65g8ElPAuAo" width="590″ height="385″ auto_thumb="1″]
TIMOTHY CHOOI | BEETHOVEN TRIO IN C MINOR  | MICHAEL HILL INTERNATIONAL VIOLIN COMPETITION | 2015
[video_lightbox_youtube video_id="3KJiV1CJtas" width="590″ height="385″ auto_thumb="1″]
TIMOTHY CHOOI | RAVEL | TZIGANE | YEHUDI MENUHIN INTERNATIONAL VIOLIN COMPETITION | 2014
[video_lightbox_youtube video_id="XRXCyBFmxu8″ width="590″ height="385″ auto_thumb="1″]
TIMOTHY CHOOI | PAGANINI | SOLO CAPRICE NO. 24 | MENUHIN INTERNATIONAL VIOLIN COMPETITION | 2014
[video_lightbox_youtube video_id="aiZcm_jbxNU" width="590″ height="385″ auto_thumb="1″]
TIMOTHY CHOOI | KREISLER | SCHON ROSMARIN | YEHUDI MENUHIN INTERNATIONAL VIOLIN COMPETITION | 2014
[video_lightbox_youtube video_id="bYmHL_0993A" width="590″ height="385″ auto_thumb="1″]
NIKKI & TIMOTHY CHOOI | PROKOFIEV | SONATA FOR 2 VIOLINS | 2012
Name: Timothy Chooi
Instrument: 1728 Guarneri Del Gesu
Bow: 1999 Chas Dubois, 2013 Michael Vann
Teachers: Ida Kavafian, Pinchas Zukerman, Patinka Kopec
Schools: Curtis Institute of Music
Comments
comments