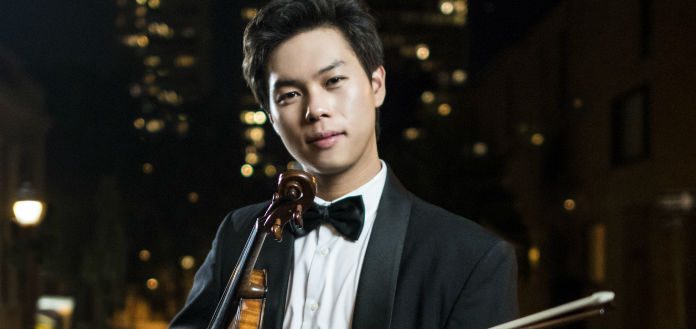 With the applications set to close on March 7th for the 2018 Astral Artists National Auditions, VC recently caught up with 2016 1st prize winner, VC Young Artist Timothy Chooi from Canada - to get a better understanding of his time on the roster and the opportunities it has presented.
"Astral Artists is one of the most incredible and interesting organizations to work with in the classical music industry.
I applied for Astral Artists in 2016 and the process of the audition remains strong in my memory. There was the standard process of sending my audition tape and then passing to the live round. After this, this was where Astral is extremely unique. The final round of the audition consisted of a one and a half hour interview with the administration team and this was a time for me to explain my background of what music meant for me and how I envisioned myself to be a leader of the classical music arts scene in the world with their support.
Since being on the roster, I have been able to create a special trusting relationship with the staff and this creates an environment where I am able to share my creative ideas while asking for advice and guidance. As Astral strives to help develop careers of extremely talented young artists to create a successful career in the 21st century, I have been able to perform and be involved with traditional and creative concerts in a variety of ways which have included chamber music concerts, concerto performances, community and recital engagements. They have a strong grasp of the marketing side of classical music as well, providing services for websites, press photos, fashion designers—to name a few. With the help of Astral, I have received and performed with concerts across the country and the territory of where these bookings are held, continue to expand. Throughout my time with them so far, I've had opportunities to perform at the Kimmel Center in Philadelphia and next season, I will be performing in the Florida Key West. These are only a few of the many projects that we have been able to collaborate with. One aspect of Astral that I think is particularly unique is its commitment to community engagement. Their relationship with sharing music with communities has allowed me to grow as an artist but furthermore, as a human being. As I am continuing my tenure with Astral as an artist under their roster, we have many musical projects on our way including debuts with orchestras, concert series across the country and anything from artist marketing to community engagement projects.
I highly encourage people to apply because of the core values of Astral. They strongly believe to specialize in developing the early careers of extraordinary classical musicians and helping them succeed in a competitive 21st century ecosystem. My experience with the incredible staff have only stimulated me to go forwards with my largest dream as an artist.
-Timmy"
The 2018 winners will join the esteemed Astral Artists roster – for customized career development mentorship, marketing, performance opportunities and community engagement experience.
Previous audition winners include: violinists Judith Ingolfsson and Soovin Kim – and VC Artists Nikki & Timothy Chooi, Zlatomir Fung and Benjamin Beilman.
Applications for the 2018 auditions to be received by March 7, 2018.
For further details visit: http://bit.ly/2hXqkuS.