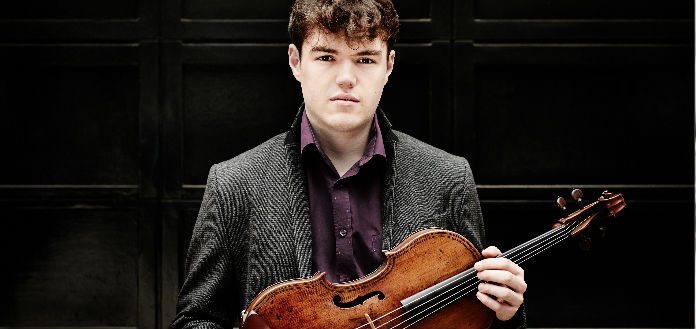 22-year-old British violist, Timothy Ridout is quickly building an international reputation as one of the new generation's most outstanding young string virtuosi.
A graduate of London's Royal Academy of Music, and a current student of Nobuko Imai at the Kronberg Academy, he is a former 1st prize winner at the Lionel Tertis and Cecil Aronowitz International Viola Competitions – and was recently awarded major prizes at both the Brahms and Max Rostal International String Competitions. 
Timothy's recent solo engagements include performances with the Baden-Baden Philharmonie, Deutsche Staatsphilharmonie Rheinland-Pfalz, London Mozart Players and Sinfonia Cymru, Zagreb Soloists, Rotterdam Philharmonic Strings, Young Musicians Symphony and the Birmingham Conservatoire Orchestra.
He currently performs on a 1565 Pergerino di Zanetto viola – on generous loan from the Beares International Violin Society.
Timothy currently has management representation by Young Classical Artists Trust (YCAT).
VC YOUNG ARTIST TIMOTHY RIDOUT & MEGUMI HASHIBA | BRUCH | ROMANZE | 2017 
VC YOUNG ARTIST TIMOTHY RIDOUT & FRANK DUPREE | PROKOFIEV | ROMEO AND JULIET | 2018 
VC YOUNG ARTIST TIMOTHY RIDOUT & ANTHONY HEWITT | BRAHMS | VIOLA SONATA NO. 2 IN E FLAT | 1ST MVT | 2017
VC YOUNG ARTIST TIMOTHY RIDOUT & ANTHONY HEWITT | BRAHMS | VIOLA SONATA NO. 2 IN E FLAT | 2ND MVT | 2017
VC YOUNG ARTIST TIMOTHY RIDOUT & ANTHONY HEWITT | BRAHMS | VIOLA SONATA NO. 2 IN E FLAT | 3RD MVT | 2017
VC YOUNG ARTIST TIMOTHY RIDOUT & ANTHONY HEWITT | FAURE | ELEGIE | 2017
VC YOUNG ARTIST TIMOTHY RIDOUT & FRANK DUPREE | BRAHMS | MINNELIED | 2018 
VC YOUNG ARTIST TIMOTHY RIDOUT & FRANK DUPREE | SCHUMANN | ROMANCE | 2018 
VC YOUNG ARTIST TIMOTHY RIDOUT & FRANK DUPREE | BOWEN | ROMANCE | 2018 
VC YOUNG ARTIST TIMOTHY RIDOUT & ANTHONY HEWITT | BOWEN | VIOLA SONATA NO. 2 IN F MAJOR | 1ST MVT | 2017
VC YOUNG ARTIST TIMOTHY RIDOUT & ANTHONY HEWITT | BOWEN | VIOLA SONATA NO. 2 IN F MAJOR | 2ND MVT | 2017
VC YOUNG ARTIST TIMOTHY RIDOUT & ANTHONY HEWITT | BOWEN | VIOLA SONATA NO. 2 IN F MAJOR | 3RD MVT | 2017
VC YOUNG ARTISTs TIMOTHY RIDOUT, WILLIAM HAGEN & STEPHEN WAARTS | DVORAK | TERZETTO IN C | 2017
VC YOUNG ARTIST TIMOTHY RIDOUT & ANTHONY HEWITT | MCRAE | FENODYREE | 2017
Name: Timothy Ridout
Viola: Peregrino di Zanetto (circa 1565-75)  – on generous loan from Beares International Violin Society
Bow: 

A. Lamy A Paris (circa 1890-1900)
Rosin: Salchow Dark
Teacher: Martin Outram | Nobuko Imai
Comments
comments