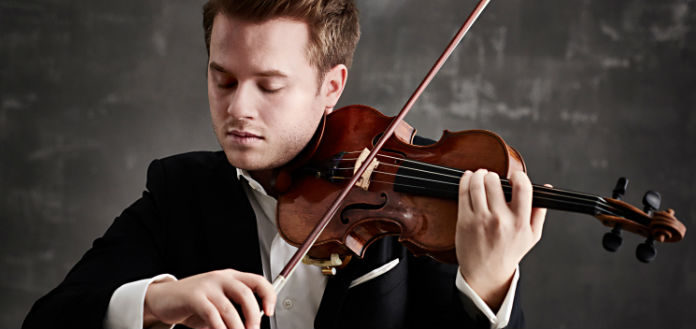 25 year old German violinist Tobias Feldmann is quickly building a reputation as one of Europe's most captivating young concert soloists – praised for his maturity and profound musicality.
A graduate student of Professor Antje Weithaas at the 'Hanns Eisler' Conservatory of Music in Berlin, Tobias is a former major prize winner at the Queen Elisabeth, Joseph Joachim, Andrea-Postacchini, Louis-Spohr, and Marteau International Violin Competitions.
His recent international debuts include solo engagements with the Utah Symphony Orchestra, the Beethoven Orchester Bonn, the Orchestre Royal de Chambre de Wallonie and the Brussels Philharmonic Orchestra.
He currently concertises on a 1769 Nicolo Gagliano violin.
TOBIAS FELDMANN | RAVEL | TZIGANE | DIRK VAN DE MOORTEL & YOUNG BELGIAN STRINGS | 2016
TOBIAS FELDMANN | MOZART | VIOLIN CONCERTO NO. 5 | PAUL MEYER & ORCHESTRE DE CHAMBRE DE WALLONIE | 2016
TOBIAS FELDMANN | BARTOK | VIOLIN CONCERTO NO. 2 | MARIN ALSOP & NATIONAL ORCHESTRA OF BELGIUM | 2015 QUEEN ELISABETH INTERNATIONAL VIOLIN COMPETITION
TOBIAS FELDMANN & BORIS KUSNEZOW | JOACHIM | ROMANCE NO. 1 | 2012 JOSEPH JOACHIM INTERNATIONAL VIOLIN COMPETITION
TOBIAS FELDMANN | BACH | SONATA NO. 2 IN A MINOR | FUGA | 2012
TOBIAS FELDMANN | BARTOK | SOLO VIOLIN SONATA | 1ST MVT | 2012 JOSEPH JOACHIM INTERNATIONAL VIOLIN COMPETITION
TOBIAS FELDMANN | SIBELIUS | VIOLIN CONCERTO | 2ND MVT | 2012 JOSEPH JOACHIM INTERNATIONAL VIOLIN COMPETITION 
Name: Tobias Feldmann
Violin: 1769 Nicòlo Gagliano
Bow: Tino Lucke
Comments
comments