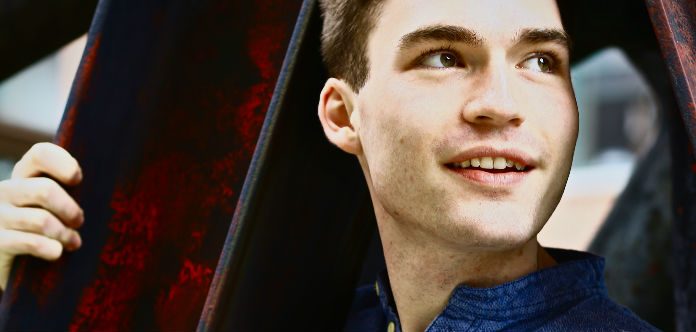 23 year old American violinist Alexi Kenney is building an international reputation as a rising young virtuoso of outstanding potential.
A current Artist Diploma student at the New England Conservatory, where he studies with Miriam Fried and Donald Weilerstein, Alexi was awarded a prestigious 2016 Avery Fisher Career Grant – and was earlier this month announced as 1 of 8 new additions to the Chamber Music Society of Lincoln Center's 'CMS Two' program.
His recent solo engagements include performances with the Indianapolis Symphony, Jacksonville Symphony, Portland Symphony, Santa Fe Symphony, Las Vegas Philharmonic and the Staatstheater Orchestra of Cottbus.
ALEXI KENNEY | JOHN ADAMS | CONCERTO FOR VIOLIN | HUGH WOLFF & NEC PHILHARMONIA
ALEXI KENNEY | MOZART | VIOLIN CONCERTO NO. 2 | DONGMIN KIM & THE NEW YORK CLASSICAL PLAYERS 
ALEXI KENNEY & DINA VAINSHTEINL | KORNGOLD | VIOLIN SONATA, OP. 6 
ALEXI KENNEY | BACH | PARTITA NO. 2 | CHACONNE 
ALEXI KENNEY & JESSICA OSBORNE | BEETHOVEN | SONATA NO. 6, OP. 30 NO. 1 | 1ST MVT 
ALEXI KENNEY & JESSICA OSBORNE | BEETHOVEN | SONATA NO. 6, OP. 30 NO. 1 | 2ND MVT
ALEXI KENNEY & JESSICA OSBORNE | BEETHOVEN | SONATA NO. 6, OP. 30 NO. 1 | 3RD MVT 
ALEXI KENNEY | MATTEIS & SAARIAHO | "ALLA FANTASIA"& "NOCTURNE"
ALEXI KENNEY | PIAZZOLLA | TANGO ETUDE NO. 3 
ALEXI KENNEY | ERWIN SCHULHOFF | SONATA FOR SOLO VIOLIN | 1ST MVT 
ALEXI KENNEY | ERWIN SCHULHOFF | SONATA FOR SOLO VIOLIN | 2ND MVT
ALEXI KENNEY | ERWIN SCHULHOFF | SONATA FOR SOLO VIOLIN | 3RD MVT
ALEXI KENNEY | ERWIN SCHULHOFF | SONATA FOR SOLO VIOLIN | 4TH MVT
Name: Alexi Kenney
Violin: 2009 Stefan Peter Greiner
Bow: 2012 Benoît Rolland 
Teachers: Don Weilerstein and Miriam Fried