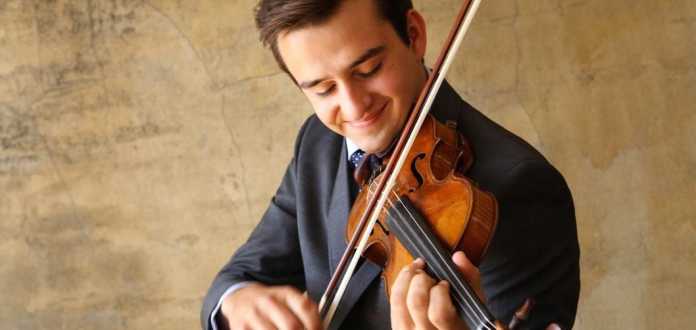 23 year old American VC 'Young Artist' William Hagen is quickly building an international reputation as a captivating young concert artist of outstanding potential – praised for his commanding technique, conviction and innate musicality.
WILLIAM HAGEN | TCHAIKOVSKY VIOLIN CONCERTO | MARIN ALSOP | 2015 QUEEN ELISABETH INTERNATIONAL VIOLIN COMPETITION
A graduate of The Juilliard School and The Colburn School, where he studied with Itzhak Perlman and Robert Lipsett, William is a former prize winner at the Fritz Kreisler and Queen Elisabeth International Violin Competitions.
His recent debuts include solo engagements with the St. Louis Symphony, Fort Worth Symphony Orchestra, Jacksonville Symphony Orchestra, Utah Symphony, Belgium National Orchestra, Aspen Philharmonic and the Sendai Philharmonic Orchestra.
William currently performs in a 1675 Andrea Guarneri violin.
WILLIAM HAGEN | SAINT-SAENS | INTRODUCTION ET RONDO CAPRICCIOSO | 2015 QUEEN ELISABETH INTERNATIONAL VIOLIN COMPETITION
WILLIAM HAGEN | MOZART | VIOLIN CONCERTO IN G MAJOR | 2015 QUEEN ELISABETH INTERNATIONAL VIOLIN COMPETITION
WILLIAM HAGEN & LIEBRECHT | DEBUSSY VIOLIN SONATA | 1ST MVT | 2015 QUEEN ELISABETH INTERNATIONAL VIOLIN COMPETITION
www.youtube.com/watch?v=GzXXS_AfZkI&showinfo=0&autohide=1
WILLIAM HAGEN & LIEBRECHT | DEBUSSY VIOLIN SONATA | 2ND MVT | 2015 QUEEN ELISABETH INTERNATIONAL VIOLIN COMPETITION
WILLIAM HAGEN & LIEBRECHT | DEBUSSY VIOLIN SONATA | 3RD MVT | 2015 QUEEN ELISABETH INTERNATIONAL VIOLIN COMPETITION
WILLIAM HAGEN | WIENIAWSKI | POLONAISE IN D MAJOR | 2014 MENUHIN INTERNATIONAL VIOLIN COMPETITION
WILLIAM HAGEN | PAGANINI | SOLO CAPRICE NO. 24 | 2014 MENUHIN INTERNATIONAL VIOLIN COMPETITION
WILLIAM HAGEN | BACH | SOLO SONATA IN C MAJOR | 2014 MENUHIN INTERNATIONAL VIOLIN COMPETITION
WILLIAM HAGEN | KREISLER | PRELUDIUM & ALLEGRO | 2014 MENUHIN INTERNATIONAL VIOLIN COMPETITION
WILLIAM HAGEN | STRAVINSKY VIOLIN CONCERTO | 3RD & 4TH MVTS | 2013 SENDAI INTERNATIONAL VIOLIN COMPETITION
WILLIAM HAGEN | MOZART VIOLIN CONCERTO IN B FLAT MAJOR | 3RD MVT | 2013 SENDAI INTERNATIONAL VIOLIN COMPETITION
Name: William Hagen
Instrument: 1675 Andrea Guarneri
Bow: Émile Ouchard
Teachers: Robert Lipsett, Itzhak Perlman
MEET THE PRO | VC 'YOUNG ARTIST' WILLIAM HAGEN | VC '20 QUESTIONS'
PREVIOUS
Comments
comments