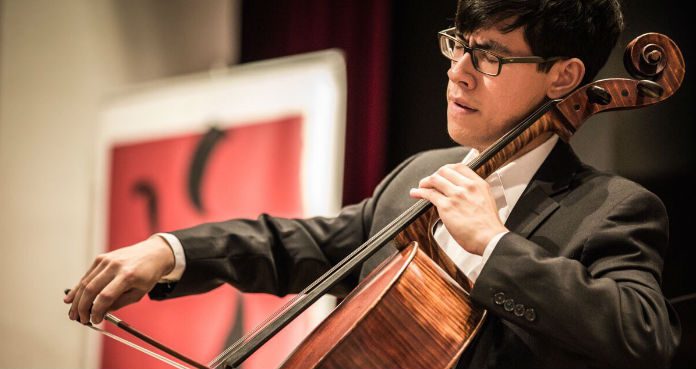 17 year old American cellist Zlatomir Fung is quickly building an international reputation as an emerging young concert artist of outstanding potential – praised for his virtuosity, maturity and profound musicality.
A student of Richard Aaron, Zlatomir is a former 1st prize winner at the Johansen, Stulberg and Irving Klein International Music Competitions – and in September of last year was awarded 1st prize at the 2016 George Enescu International Cello Competition, in Romania.
His recent performances include solo engagements with the New England Philharmonic, George Enescu Philharmonic Orchestra, the Baltimore Chamber Orchestra, Santa Cruz Symphony, Lausanne Sinfonietta, the Grand Rapids Symphony.
ZLATOMIR FUNG | ENESCU | SYMPHONIE CONCERTANTE | ALEXANDRE BLOCH & GEORGE ENESCU PHILHARMONIC ORCHESTRA | 2016 GEORGE ENESCU INTERNATIONAL CELLO COMPETITION
ZLATOMIR FUNG & STEFAN PETROV | SCHUBERT | ARPEGGIONE SONATA | 2016 HEIFETZ INTERNATIONAL MUSIC FESTIVAL
ZLATOMIR FUNG | PENDERECKI | DIVERTIMENTO FOR SOLO CELLO | 1ST, 2ND, 3RD MVTS | 2016 HEIFETZ INTERNATIONAL MUSIC FESTIVAL
ZLATOMIR FUNG & STEFAN PETROV | KARL DAVYDOFF | AT THE FOUNTAIN | 2016 HEIFETZ INTERNATIONAL MUSIC FESTIVAL
ZLATOMIR FUNG | TELEMANN | FANTASIA NO. 10 
ZLATOMIR FUNG & DINA VAINSHTEIN | SCHUMANN | FIVE PIECES IN FOLK STYLE
ZLATOMIR FUNG & DINA VAINSHTEIN | SULKHAN TSINTSADZE | FIVE PIECES IN FOLK STYLE
ZLATOMIR FUNG | BRAHMS | CELLO SONATA NO. 2 | 2015 JOHANSEN COMPETITION FOR YOUNG STRING PLAYERS WINNER'S RECITAL 
Name: Zlatomir Fung
Cello: 1905 W.E. Hill and Sons, London
Bow: 2015 Evan Orman
Teachers: Richard Aaron & Julie Albers
Schools: Oak Meadow School | New England Conservatory Preparatory School
Comments
comments