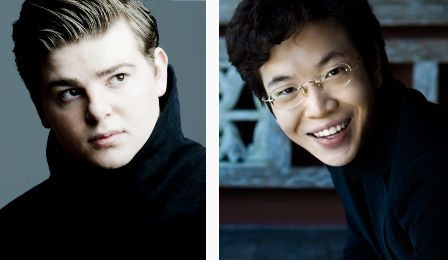 VC 'Young Artists', 19 year old Chad Hoopes and 23 year old Paul Huang have today been announced as 2 of 8 new additions to The Chamber Music Society of Lincoln Center's 'CMS Two' artist residency program.
The prestigious three-year residency offers unparalleled professional opportunities - including New York concert seasons, national and international residencies and tour appearances, educational activities, recordings and international broadcasts.
This year's other appointees are cellist Dmitri Atapine, violist Matthew Lipman, violinist Danbi Um, clarinetist Tommaso Lonquich - and pianists Michael Brown and Qian Wu.
The 8 outstanding instrumentalists were selected from an international audition of 237 applicants.
"There is nothing at CMS more rigourous, demanding, and thrilling as the selection process for the CMS Two program," Artistic Director David Finckel has said, '... as the most extraordinary candidates rise to the top during our screening process, we and the jury can literally see the future of chamber music unfolding before us."
The CMS Two's current roster includes VC 'Young Artists' Benjamin Beilman and the Danish String Quartet – and violinists Mihai Marica, Nicolas Dautricourt and Alexander Sitkovetsky.