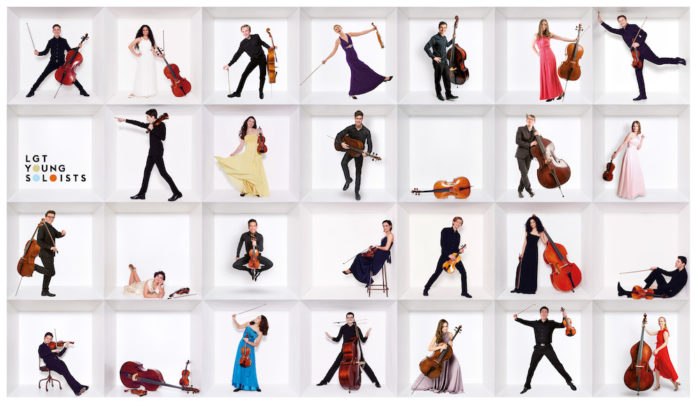 Comprising highly gifted young international string soloists, aged 14 to 25, the 28 young members individually hold over 80 national and international competition prizes and accolades.
The group was founded by violinist and pedagogue Alexander Gilman on the principal of: "exceptional young concert artists performing together with their peers, as tutti players and soloists, accompanying each other and sharing their collective passion for music."
Upcoming engagements include performances at the Elbphilharmonie Hamburg, Musikverein Vienna, Royal College of Music London, Victoria Hall Singapore and Heidelberger Frühling as well as the release of their 5th Album "Beethoven RECOMPOSED".
The group is generously supported by the LGT Private Bank, in Liechtenstein.
OTOHA TABATA & VC YOUNG ARTIST LGT YOUNG SOLOISTS | HINDEMITH | TRAUERMUSIK | WOORDEES FESTIVAL | 2020
LUKA COETZEE & VC YOUNG ARTIST LGT YOUNG SOLOISTS | TCHAIKOVSKY | PEZZO CAPRICCIOSO | WOORDEES FESTIVAL | 2020
MICLEN LAIPANG & VC YOUNG ARTIST LGT YOUNG SOLOISTS | GRIGORAS DINICU | HORA STACCATO (ARR. HEIFETZ/PAUL STRUCK) | 2019
VC YOUNG ARTIST LGT YOUNG SOLOISTS | PIAZZOLLA | LIBERTANGO | WOORDEES FESTIVAL | 2020
CHRISTA-MARIA STANGORRA & VC YOUNG ARTIST LGT YOUNG SOLOISTS | GINASTERA | PAMPEANA NO. 1 | 2019
MICLEN LAIPANG & VC YOUNG ARTIST LGT YOUNG SOLOISTS | BEETHOVEN KREUTZER SONATA | 2020
MILO HARPER & VC YOUNG ARTIST LGT YOUNG SOLOISTS | GRANDJANY | 'ARIA' IN CLASSIC STYLE | 2019
VILÉM VLČEK & VC YOUNG ARTIST LGT YOUNG SOLOISTS | POPPER | POLONAISE DE CONCERT | 2019
ANUSCHKA PEDANO & VC YOUNG ARTIST LGT YOUNG SOLOISTS | BRUCH | ROMANZE | 2019
GERALD KARNI & VC YOUNG ARTIST LGT YOUNG SOLOISTS | KREISLER | LIEBESLEID (ARR. PAUL STRUCK) | 2019
LEO ESSELSON & VC YOUNG ARTIST LGT YOUNG SOLOISTS | PIAZZOLLA | LE GRAND TANGO | 2019
OLIWIA MEISER, CARLO LAY & VC YOUNG ARTIST LGT YOUNG SOLOISTS | SOLLIMA | VIOLONCELLES, VIBREZ! | 2019
VC YOUNG ARTIST LGT YOUNG SOLOISTS | HOLST | ST PAUL'S SUITE | 2017
DAVID NEBEL, DUSAN KOSTIC & VC YOUNG ARTIST LGT YOUNG SOLOISTS | GIOVANNI BOTTESINI | GRAN DUO | 2017
DAVID NEBEL, ELENA KAWAZU & VC YOUNG ARTIST LGT YOUNG SOLOISTS | SARASATE | NAVARRA | 2017
Website: https://www.lgtyoungsoloists.com/
Facebook: https://www.facebook.com/lgtyoungsoloists
Instagram: @lgtyoungsoloists
Video Credits: Bernhard Fleischer / BFMI