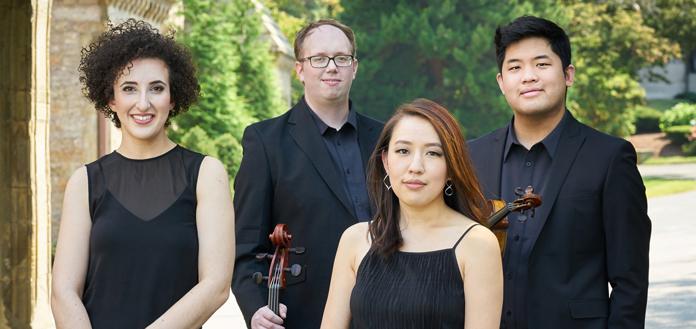 It has been announced this week that the VC Artist Verona Quartet has been awarded the 2020 Chamber Music America 'Cleveland Quartet' Award.
Presented biennially, the award honors a rising young string quartet in the process of establishing a major international career.
Currently serving as the New England Conservatory's professional string quartet training program's quartet-in-residence, the Verona Quartet are former top prize winners at the Wigmore Hall, Osaka, Melbourne, Fischoff and M-Prize International Chamber Music Competitions.
As part of the 2020 prize, throughout the 2020-2021 season, the ensemble will be granted a number of prestigious performance opportunities - including recitals at New York's Carnegie Hall, the Buffalo Chamber Music Society, Chamber Music Society of Detroit, Washington DC's Smithsonian Gallery of Art and the University of Texas.
VC ARTIST VERONA QUARTET | SHOSTAKOVICH STRING QUARTET NO. 3 | 5TH MVT | NEW ENGLAND CONSERVATORY | 2018
"We are pleased that the Verona Quartet will join the roster of distinguished quartets that have received the Cleveland Quartet Award over the years — Brentano, Borromeo, Miami, Pacifica, Miró, Jupiter, Parker, Jasper, Ariel, Dover, and Rolston Quartets — all of which have enriched the chamber music field," Chamber Music America's Chief Executive Officer, Margaret Lioi has this week said.
"We are absolutely THRILLED to to be the recipients of the 2020 Cleveland Quartet Award from Chamber Music America ... so honored to join such a distinguished roster of string quartets, and to carry on the legacy of the Cleveland Quartet - whom we admire immensely," the Verona Quartet has this week said.